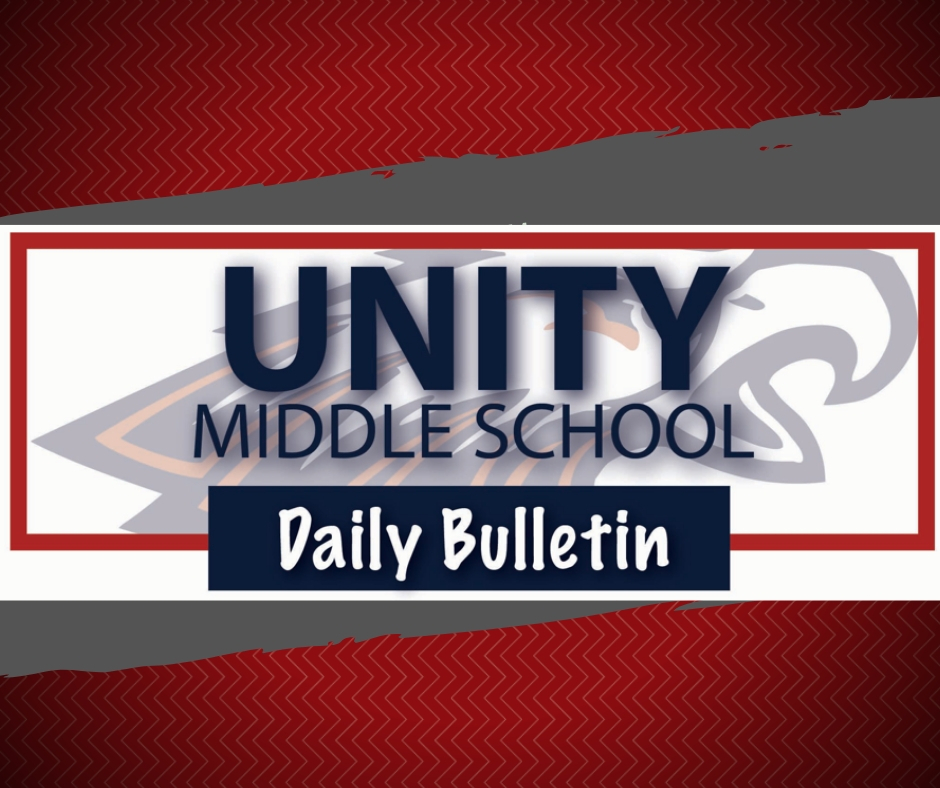 Middle School Announcements 5.30.2019
Unity Middle School
Thursday, May 30, 2019
Thursday, May 30, 2019
Announcements
LAST CALL FOR SUMMER SCHOOL SIGN-UP! Slips must be turned into the office by Friday, May 31 to ensure you will have transportation!
LAST CALL FOR SUMMER MUSIC LESSON SIGN-UP! Slips must be turned into the office or the music room by
Friday, May 31st!
There will be open gym for any middle school student wanting to improve their basketball skills Friday, May 31, 6:00-7:30 and Monday, June 3, 6:00-7:30 in the Middle School gym.
Talent Show applications can be found in the red folder on the bulletin board by the end of the hall and outside Mrs. Campeau's room. Applications need to be returned to Mrs. Campeau by
May 30th.
Food Service
Lunch Today: Brunch Lunch! Pancake Stack, Cheesy Omelet, Potato Smiles, and Mixed Berries
Breakfast Tomorrow: Cherry Frudel (Strudel)
Lunch Tomorrow: Cook's Choice!
6th Grade Line: Hot Dogs
7th/8th Grade Line: Tacos w/fixings
Save Time in the Lunch Line: Take Fruit/Veggies Everyday! You must choose at least 1⁄2 cup of fruit, vegetable or a combination of the 2 in order to have a complete meal. This is a requirement of the National School Lunch Program. Be sure to take fruit and/or veggies as you go through the lunch line. If you don't, you will be sent back to the line to get fruit/veggies. Please be respectful of your lunch staff members and follow their directions.
Upcoming Events
May 30-31: 5th Grade Camping Trip
June 4: End of Year Reward Trip (Grades 6-8)
June 6: MS Talent Show
June 7: Last Day of School – Dismissed at 12:30
Have a great Day!