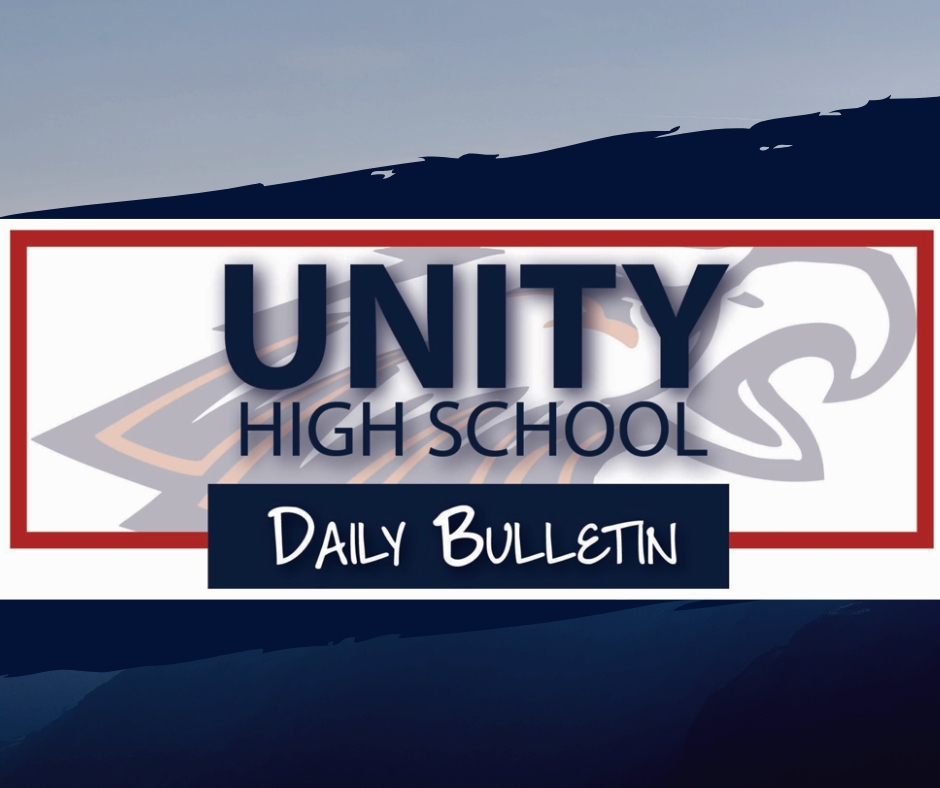 High School Announcements 6.4.2019
Unity High School
Tuesday, June 04, 2019
Tuesday, June 4, 2019
Announcements:
If you haven't filled out the Last Day Celebration Google form sent by Miss Bondhus, please do so today!
Track Athletes – Turn in your sweats and uniforms or be charged for them!
Sweats - $64 Uniform - $44
If you are interested in running for Miss Balsam Lake and are a current sophomore or junior, please sign up in the office.
If you are interested in signing up for Ms. Centuria and you are a current sophomore or junior, sign up in the office!
There is a community member looking for a part-time babysitter. Please see Mr. Johnson if you are interested in this opportunity.
Upcoming Events
iPad Turn In – Juniors will be turning in iPads on today, Freshmen and Sophomores will be Wednesday.
Yearbooks – There are only 5 left and they are awesome! The cost is $50 – stop by Mrs. Ahlgren's room and pick yours up today!
Food Service
June 6th – Juniors are unable to go through the lunch line early.
WE WOULD LIKE TO INTRODUCE THE NEW PIZZERIA LANE! Starting TODAY, you will see your regularly scheduled lunch in one line, BUT, in the other line you will see pizzeria themed items each day. Some items that will be featured in the PIZZERIA LANE will be Big Daddy's Pizza Slices, Pizza Calzones, Italian Dunkers, Italian Cheesy Flatbread and other favorite pizza themed items.
Lunch Today: Italian Dunkers
Save Time in the Lunch Line: Take Fruit/Veggies every day! You must choose at least ½ cup of fruit, vegetable or a combination of the 2 in order to have a complete meal. This is a requirement of the National School Lunch Program. Be sure to take fruit and/or veggies as you go through the lunch line. If you don't, you will be sent back to the line to get fruit/veggies. Please be respectful of your lunch staff members and follow their directions.