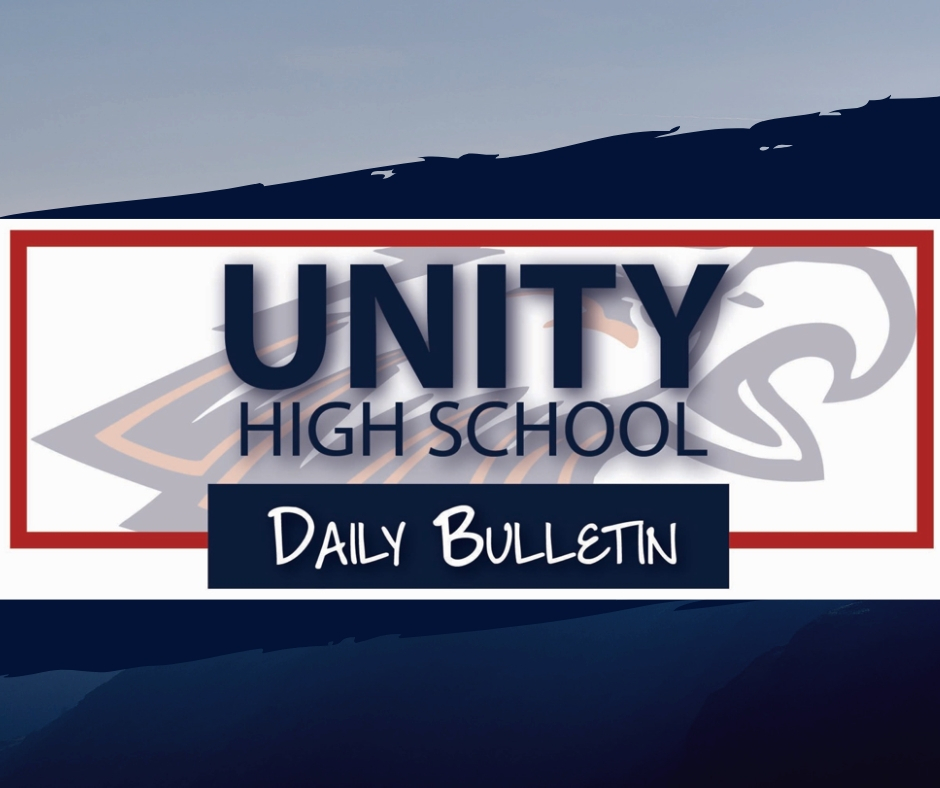 High School Announcements 9.4.2019
Unity High School
Wednesday, September 04, 2019
Wednesday, September 4, 2019
Announcements:
Congratulations to the Soccer team on their victory over Cumberland 3-2!
Congratulations to the Volleyball team on their victory over Luck!
Upcoming Meetings:
Wednesday – Student Council/Lunch/Aerobics Room
Thursday – SkillsUSA/Lunch/Mr. Lee
Tuesday: FBLA/Lunch/Mrs. Ahlgren
Upcoming Events
Thursday - Cross Country @ Spooner
Tennis vs. Osceola (H)
Friday – Volleyball vs. Flambeau(H)
Saturday – JV2 Volleyball @ Shell Lake
Tennis @ Barron
Try-outs for the High School Musical:
Oh Horrors!
It's Murder!
Monday, September 9th from 3:45 – 7:00 p.m. or
Tuesday, September 10th from 3:45 – 7:00 p.m.
YES! YOU CAN BE IN A SPORT AND A SHOW! Sign up in Ms. Martinson's room.
Food Service
Lunch Today: Chicken Dippers w/ sauce/Dinner Roll/Sweet Potato
Fries/Mandarin Oranges