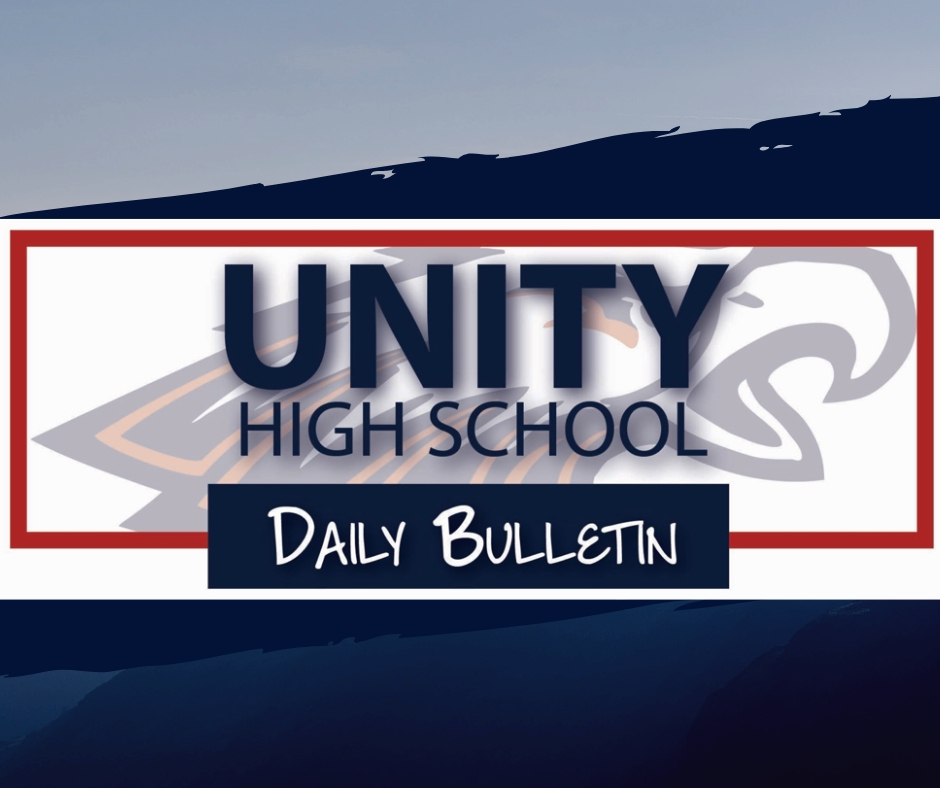 High School Announcements 9.11.2019
Unity High School
Wednesday, September 11, 2019
Wednesday, September 11, 2019
Announcements:
Congratulations to the Unity/SCF soccer team on their 2-1 victory over Hayward last night!
Congratulations to the Lady Eagles Cross Country Team on their 1st place team win last night at the Webster Conference Preview Meet. Medalling were Ann Boland, Emily Jorgenson, Lauren Jorgenson and Megan Collins. Also congratulations to Cullen Feist, Mason Brown, Caleb VosBenkowski on the men's team as they were all medalists!
A representative from U.W. Stout will be here today from 1:00 – 1:30 in the PAC. If you are interested in attending U.W. Stout or would like more information, please attend.
FFA Sectional Leadership Workshop permission slips are available on the FFA bulletin board. Come see Mrs. Jagielo to learn about this great leadership workshop! Permission slips are due THURSDAY (9/12).
National Portfolio Day will be held on October 6 at Minneapolis College of Art and Design: If you are considering studying art or design at a college level, you might want to consider attending the National Portfolio Day in MN to get a small taste of what it could be like to attend a professional art program. You'll see a variety of artwork created at different levels by other young artists with varying skills and experiences, and you may hear many different opinions about your work. This is an opportunity to have college representatives review your artwork, offer critiques, and share information about their schools. If this sounds like something you would be interested in there will be a meeting to discuss this further in Zip's room on Thursday during lunch. Grades 9-12.
Upcoming Events
Thursday: Soccer @ Baldwin-Woodville
Volleyball vs. Frederic (H)
Friday: Football vs. Grantsburg (H)
Saturday: Volleyball @ Cadott
Food Service:
Grab and Go meals will be available at the snack window. Each day we will have 2 grab and go meal options. Every day, we will have the PB&J Snacker Pack (Uncrustable, String Cheese, Cheez It Crackers, Applesauce Cup) as well as a second rotating option (Chicken Caesar Wrap, Yogurt Parfait, Italian Sub, Bean and Cheese Nachos, etc). These grab and go meals all come with milk, fruit and veggies at the regular lunch price.
Lunch Today: Spaghetti/Bread Stick/Green Beans/Apple Slices