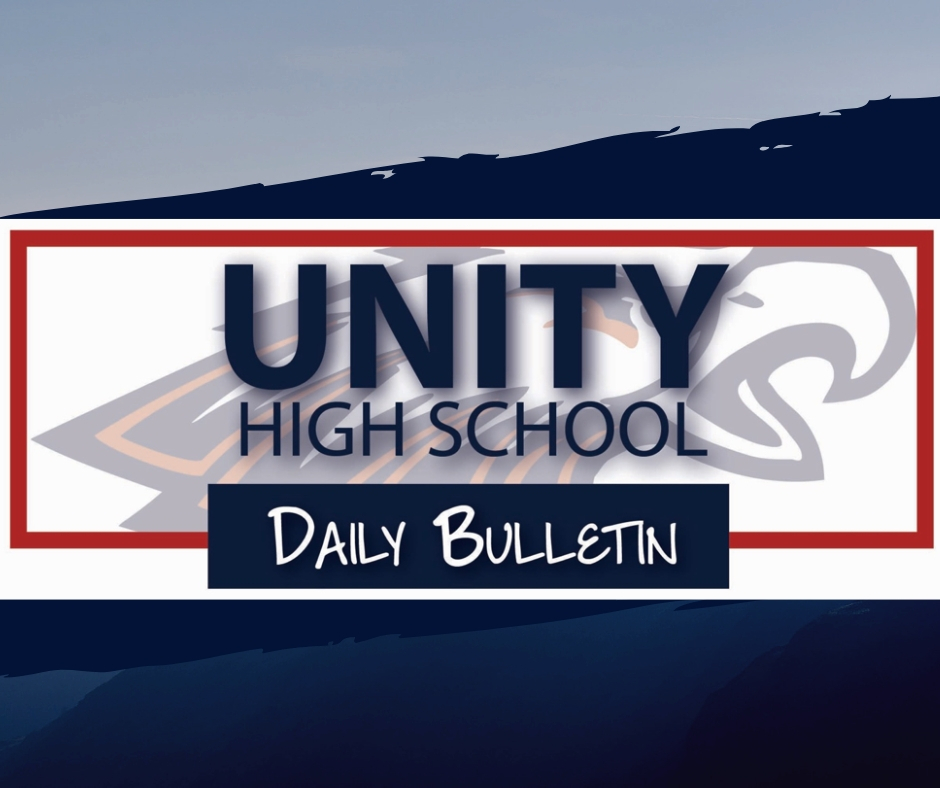 High School Announcements 10.4.2019
Unity High School
Friday, October 04, 2019
Friday October 4, 2019
Announcement:
Congratulations to Jordan Kamish for advancing to Sectionals in golf!
WITC will be here 5th hour today in the PAC for any senior who is interested in applying there. You have the opportunity to apply for free today and take the first step in the FAFSA. Bring your iPAD
Attention hockey players/parents. Anyone interested in playing hockey for the Blizzard this year should attend a meeting at the hockey rink in Siren on Sunday, October 6th at 6:30 PM. Coach Novinska, the new head coach would like introduce himself as well as discuss goals and expectations for the year.
Fall Musical:
We need Extras! If you were interested in being in the fall musical, but didn't make it to auditions, we are still in need of Extras/Chorus members. You will not have to sing a solo, nor do you need to prepare a monologue for it. If you are interested, please see Ms. Wren Rivers or Mrs. Martinson. We would be glad to have you as part of the show! And, YES, you can be in a sport AND in the show.
Trollhaugen pass information is in the office.
Upcoming Meetings:
SkillsUSA/Friday/lunch/Mr. Lee
Seniors - Come to the office to sign up for your senior meeting with Ms. Coulter this week!
FFA officer meetings will be every 1st and 3rd Wednesday of the month during lunch in the ag room.
FFA chapter meetings for all regular members will be every 2nd and 4th Wednesday of the month during lunch in the ag room.
Meca Sports will be here Oct. 25th during lunch to take letter jacket orders. A $100 deposit is required!
Picture Retakes - Oct. 29th
Sophomores - Jostens will be here at 11:30 on Oct. 31st regarding class rings
Seniors - Jostens will be here at 11:45 on Oct. 31st regarding graduation information/Ms. Eisenman's room
Upcoming Events:
Friday: Football @ Turtle Lake
Saturday: Volleyball Tournament @ Amery
Food Service:
Grab and Go meals will be available at the snack window. Each day we will have 2 grab and go meal options. Every day, we will have the PB&J Snacker Pack (Uncrustable, String Cheese, Cheez It Crackers, Applesauce Cup) as well as a second rotating option (Chicken Caesar Wrap, Yogurt Parfait, Italian Sub, Bean and Cheese Nachos, etc). These grab and go meals all come with milk, fruit and veggies at the regular lunch price.
Lunch Today: Chicken Patty Sandwich/Steamed Corn/Mandarin Oranges
MAKE IT A GREAT DAY!