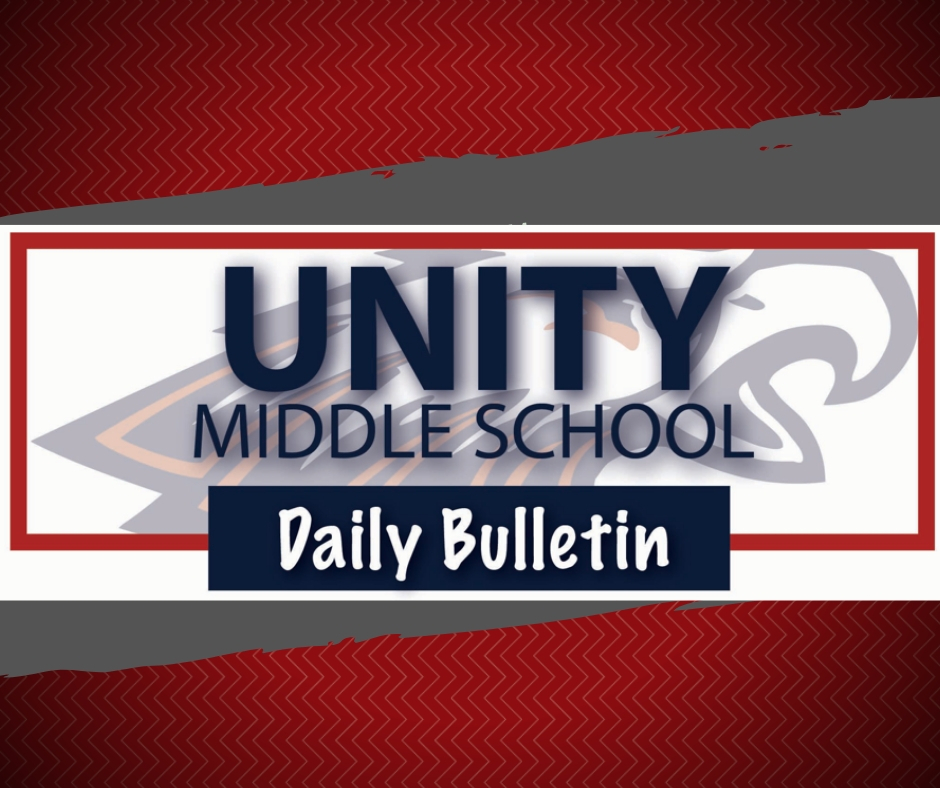 Middle School Announcements 10.14.2019
Unity School District
Monday, October 14, 2019
Monday, October 14, 2019
Announcements
Meetings
Reminders
As a reminder, handwritten notes are not accepted for bus changes. Your parent or guardian must call Kobussen to make bus changes.
Trollhaugen pass information is in the office.
Food Service
Lunch Today: Crispy Chicken Fries w/sauce, Green Beans & Apples
Breakfast Tomorrow: Bacon Scrambler Pizza
Lunch Tomorrow: Tacos in a Bag, Fiesta Beans, and Pears
Save Time in the Lunch Line: Take Fruit/Veggies Everyday! You must choose at least 1⁄2 cup of fruit, vegetable or a combination of the 2 in order to have a complete meal. This is a requirement of the National School Lunch Program. Be sure to take fruit and/or veggies as you go through the lunch line. If you don't, you will be sent back to the line to get fruit/veggies. Please be respectful of your lunch staff members and follow their directions.
Upcoming Events
Tuesday, October 29th: Picture Retake Day