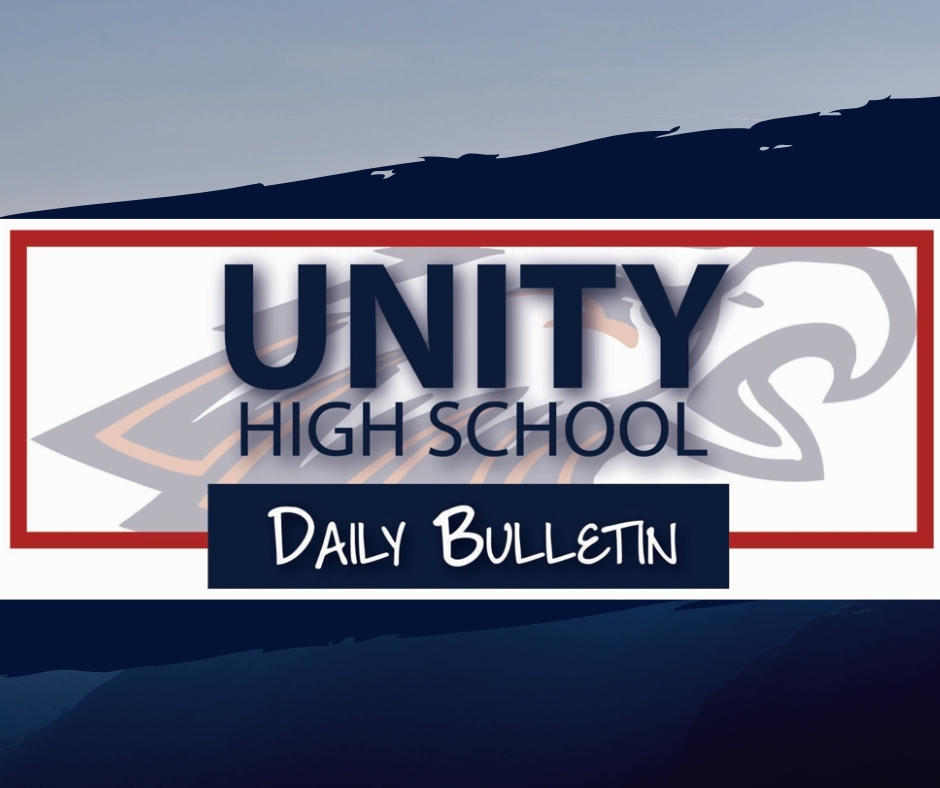 High School Announcements 11.4.2019
Unity High School
Monday, November 04, 2019
Monday, November 4, 2019
Announcement:
Congratulations to Ann Boland for her great run at the State Meet on Saturday. Ann finished 108 out of 148 runners, with an impressive time of 22:24.
Congratulations to the Boys Cross Country team for their best ever performance at the State Meet. The team finished in 11th place out of 16 teams!
FFA members interested in attending the World's Toughest Rodeo must hand in their permission slips and payments by THIS WEEK WEDNESDAY! No tickets will be ordered after this date. Please hand in your signed permission slip and payment to Mrs Jagielo by 3:35 on Wednesday.
If you are interested in being part of the co-op Gymnastics team with Grantsburg/Unity/Webster/Luck, please come to the office
Freshmen - Please bring in the teen check forms!
Open Wrestling Mats: Tuesdays and Thursdays in the upper gym
3:45 p.m. - 5:00 p.m.
Yearbooks are selling fast. Don't wait, order yours today! See Mrs. Ahlgren for details.
Senior reminder - you are to check into your resource hour before you leave for lunch privilege, and show your privilege card in the office. You are also to return on time and be present in your 4th hour class when the bell rings. It's a privilege to leave the building, please respect the guidelines.
Trollhaugen pass information is in the office.
Upcoming Meetings:
Monday: Parent/Athlete Meeting/7:00 p.m./PAC
Tuesday: Kinship/Lunch/Library
FFA officer meetings will be every 1st and 3rd Wednesday of the month during lunch in the ag room.
FFA chapter meetings for all regular members will be every 2nd and 4th Wednesday of the month during lunch in the ag room.
Food Service:
Grab and Go meals will be available at the snack window. Each day we will have 2 grab and go meal options. Every day, we will have the PB&J Snacker Pack (Uncrustable, String Cheese, Cheez It Crackers, Applesauce Cup) as well as a second rotating option (Chicken Caesar Wrap, Yogurt Parfait, Italian Sub, Bean and Cheese Nachos, etc). These grab and go meals all come with milk, fruit and veggies at the regular lunch price.
Lunch Today: Cheeseburger/Curly Fries/Fresh Apples