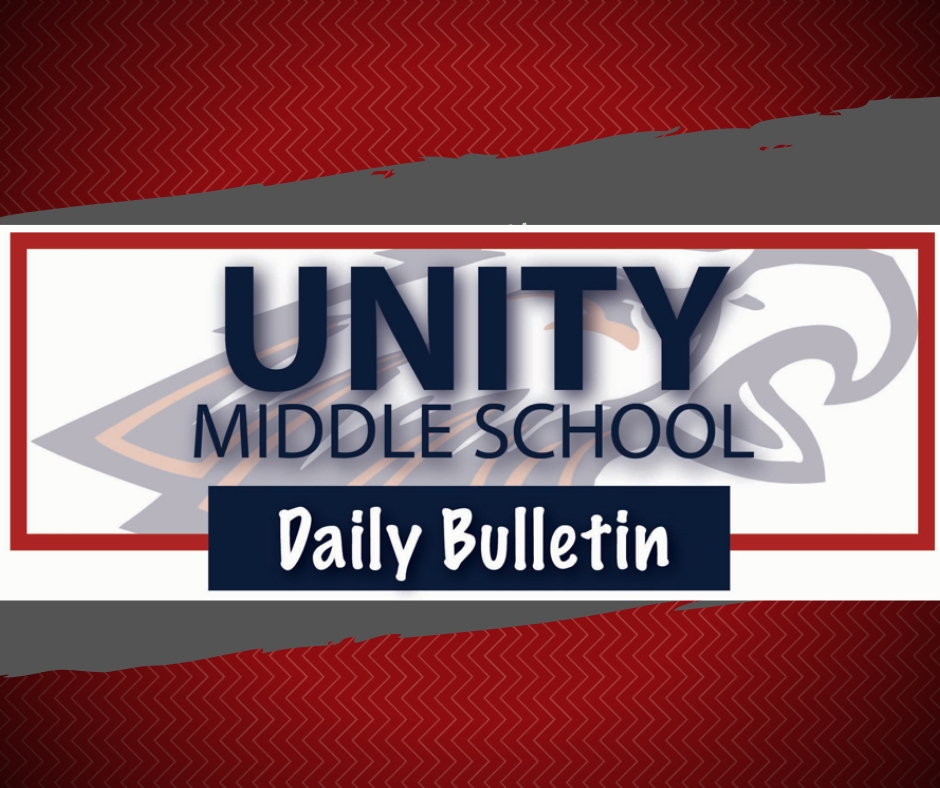 Middle School Announcements 11.15.2019
Unity Middle School
Friday, November 15, 2019
Friday, November 15, 2019
Announcements
Wednesday, Nov 20- Wacky Wednesday
Thursday, Nov. 21- Twining Thursday
Friday, Nov. 22- PJ Friday
5th grade DAY 1 physical education students will be swimming on Monday (11/18)
Reminder: 6th - 8th graders start swimming next week. Monday is an "A" Day. Make sure you have your swimming suit, towel and plastic bag.
Those students who have no more than one major starting November 11- November 22 and meet grade-level academic expectations will be able to take part in a PBIS reward for Trimester 1 on the afternoon of November 22. Students will have the opportunity to choose from a selection of movies that afternoon. A Google form has been sent out for students to make their final decisions.
The middle school and high school football wrap up banquet will be held on November 19th, beginning at 6:45pm in the elementary cafeteria. All players and their families are welcome to attend. Please make every effort to attend and celebrate our successful 2019 season!
Meetings
Unity Middle School Wellness
Unity Middle School is looking to kick off another fun year of great activities and challenges. We are looking for interested individuals to fill the following positions for our Wellness Program. Wellness President, Wellness VP, and Wellness Secretary.
Applicants should submit an email of interest to ssylvester@unity.k12.wi.us
Please include: Ideas for wellness, why you would like to be involved, and what special skills do you possess that will benefit our program.
Applications are due by Friday the 22nd by 11:30 a.m.
Trollhaugen pass information is in the office.
Students should not be hanging out on or near the fence, next to the Elementary playground, during recess. In addition to that, students should not be in or behind the ball cart shed. It is a busy area that could lead to someone getting hurt.
Food Service
Lunch Today: Roast Turkey Dinner, Mashed Potatoes and Gravy, Corn, Dinner Roll, Cranberries, and Mandarin Oranges
Breakfast Monday: Cheesy Omelet w/ Toast
Lunch Monday: Mini Corn Dogs, Baked Beans, and Apples or Oranges
Save Time in the Lunch Line: Take Fruit/Veggies Everyday! You must choose at least 1⁄2 cup of fruit, vegetable or a combination of the 2 in order to have a complete meal. This is a requirement of the National School Lunch Program. Be sure to take fruit and/or veggies as you go through the lunch line. If you don't, you will be sent back to the line to get fruit/veggies. Please be respectful of your lunch staff members and follow their directions.
Upcoming Events
Friday, November 22nd: End of Trimester
November 25-29: Fall Break (No School)
Have a great day!