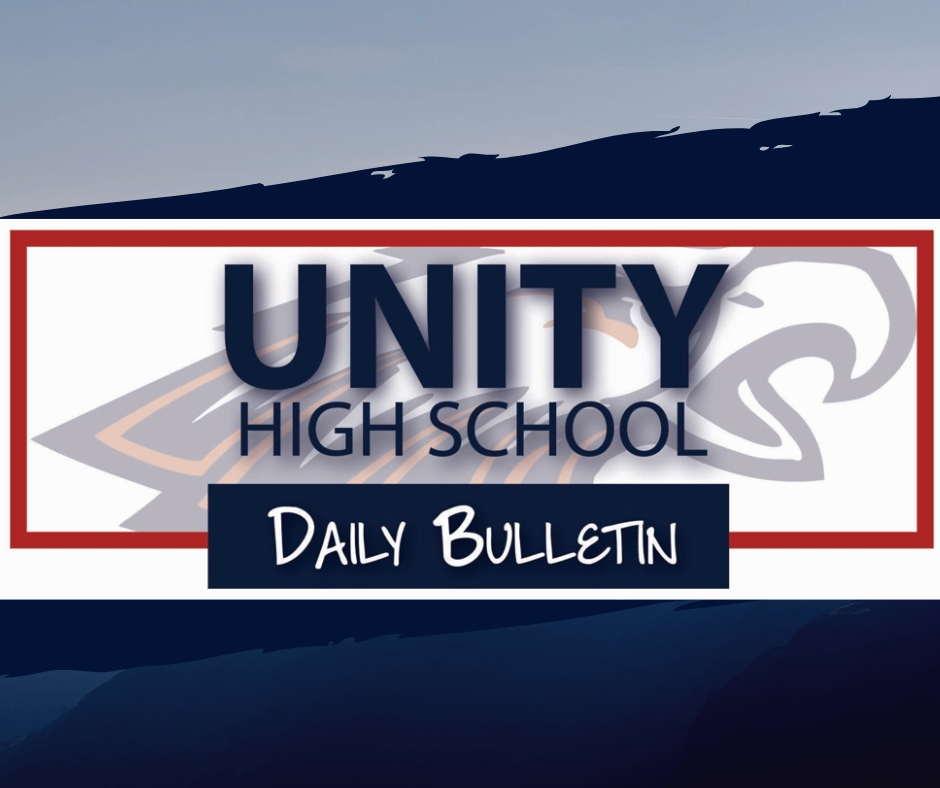 High School Announcements 12.9.2019
Unity High School
Monday, December 09, 2019
December 9, 2019
Announcement:
Stop the Music! On Monday morning the UHS Student Council will begin the Stop the Music fundraiser. We hope you LOVE the song Jingle Bell Rock! Get out your change and dollar bills to donate in the office or at lunch to Stop the Music! Student Council will turn off the music once we reach $400. Money raised will help spread some holiday cheer to some of our UHS students.
FFA members: please remember to make arrangements to pick up your fruit sale items tomorrow from the ag room. Be sure to double check your orders prior to exiting the school. The weather is calling for frigid temperatures, so please be sure to load them into a heated vehicle. You have to pick up your orders after school that day. Pick up will take place in the Ag Room (117). We would like for you to have everything picked up by 4:30 PM that night.
Please make arrangements now.
There is a benefit for Abby Palmquist on Tuesday, December 10th from
5pm-7pm, at Unity School District. Abby is a student at Unity Middle School who is undergoing treatments for Ewing Sarcoma. There will be an Italian dinner, silent auction, and dessert contest. Information regarding benefit, including how to volunteer or donate, is located in the High School Office.
Yearbooks are selling fast. Don't wait, order yours today! See Mrs. Ahlgren for details.
Senior reminder - you are to check into your resource hour before you leave for lunch privilege, and show your privilege card in the office. You are also to return on time and be present in your 4th hour class when the bell rings. It's a privilege to leave the building, please respect the guidelines.
Trollhaugen pass information is in the office.
Upcoming Meetings:
Quiz Bowl 2020 Launch, Quiz In Lunch, Noon, Room 110, Every Friday until season start
FFA officer meetings will be every 1st and 3rd Wednesday of the month during lunch in the ag room.
FFA chapter meetings for all regular members will be every 2nd and 4th Wednesday of the month during lunch in the ag room.
Upcoming Events:
Food Service:
Grab and Go meals will be available at the snack window. Each day we will have 2 grab and go meal options. Every day, we will have the PB&J Snacker Pack (Uncrustable, String Cheese, Cheez It Crackers, Applesauce Cup) as well as a second rotating option (Chicken Caesar Wrap, Yogurt Parfait, Italian Sub, Bean and Cheese Nachos, etc). These grab and go meals all come with milk, fruit and veggies at the regular lunch price.
Lunch today: Western Burger/Baked Beans/Pears
We have a new item at the Ala Carte window called "The Bistro Box"
The Bistro Box is similar to a lunchable. It contains flatbread, turkey, cheese and hummus. Be sure to grab milk, fruit and veggies to go with this yummy pack. This is part of the grab and go lunch program and is available for everyone as a lunch.
Make it a great day!