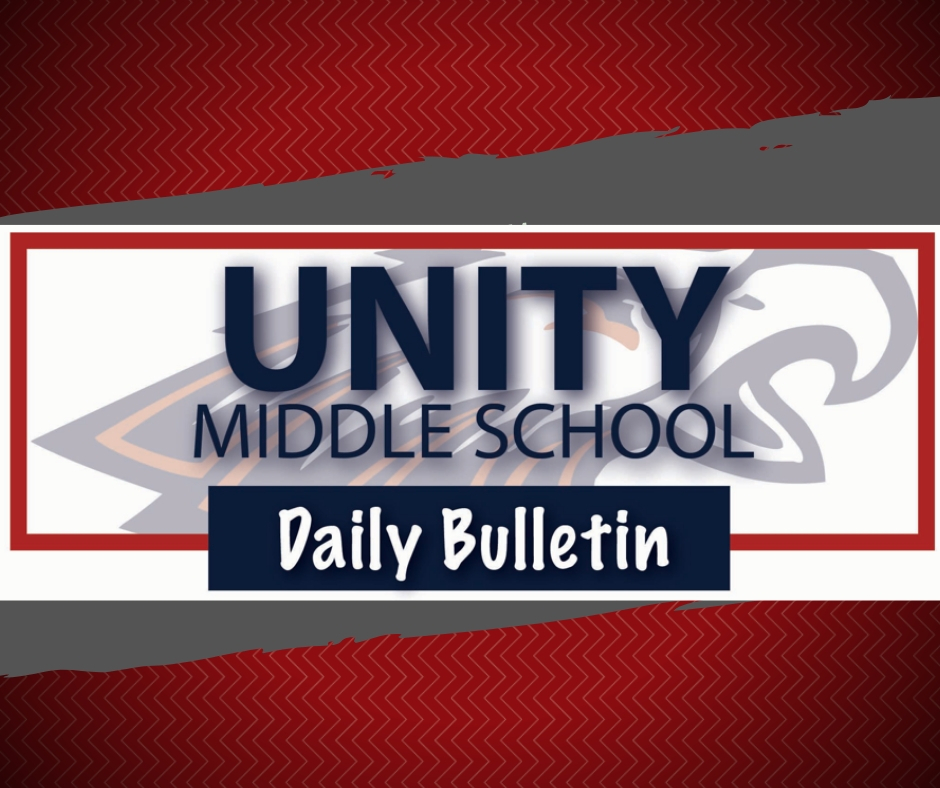 Middle School Announcements 12.10.2019
Unity Middle School
Tuesday, December 10, 2019
Tuesday, December 10, 2019
Coin war starting tomorrow! For more information please look at the tv.
The new Eagle Eye Reward Menu is posted on bulletin boards around the middle school! Please take a minute and check it out! There are some cool rewards on there. Have you ever wanted to bake or cook with a professional chef? Well, now here's your chance! Ms. Wren Rivers is offering up her baking services for only 60 tickets...plus, you get to bring 2 friends! Or, do you like fast food, pizza, swimming, or reading to elementary school students? All of those and more are on the new/improved Eagle Eye Reward Menu! Please make sure to redeem your tickets with the individual listed or the office!
There is a benefit for Abby Palmquist on Tuesday, December 10th from 5pm-7pm, at Unity School District. Abby is a student at Unity Middle School who is undergoing treatments for Ewing Sarcoma. There will be an Italian dinner, silent auction, and dessert contest. Information regarding benefit, including how to volunteer or donate, is located in the Middle School Office.
Meetings
There will be a wellness meeting today during homeroom in Mrs Mattson's room. If you are interested in joining wellness please show up and bring your awesome ideas!
There will be a basketball meeting on Tuesday, December 10 @ 11:33am in Mrs. Perkins' room for any 7th and 8th girls interested in playing basketball.
Reminders
5th grade PE students who have chosen to take home their jump ropes need to remember to bring them to PE class.
Please do not leave your winter clothing (coats, hats, gloves, boots, etc) in the hallway or on the benches during lunch and recess. Winter clothing needs to be stored in your locker when you are not wearing it.
Please remember to walk when exiting the buses and coming inside; the elementary students are much smaller than you and are unable to move as fast with their winter gear on.
Food Service
Lunch Today: Chicken Patty Sandwich, Roasted Carrots, and Pears
Breakfast Tomorrow: Filled Crescent Roll
Lunch Tomorrow: Homemade Cheesy Mac Hot Dish, Green Beans, Dinner Roll, and Bananas
The Bistro Box is similar to a lunchable. It contains flatbread, turkey, cheese and hummus. Be sure to grab milk, fruit and veggies to go with this yummy pack. This is part of the grab and go lunch program and is available for everyone as a lunch.
Save Time in the Lunch Line: Take Fruit/Veggies Everyday! You must choose at least 1⁄2 cup of fruit, vegetable or a combination of the 2 in order to have a complete meal. This is a requirement of the National School Lunch Program. Be sure to take fruit and/or veggies as you go through the lunch line. If you don't, you will be sent back to the line to get fruit/veggies. Please be respectful of your lunch staff members and follow their directions.
Upcoming Events
December 10: Boys Basketball Game @ Luck – Dismiss @ 3:30
December 23rd-January 1st: Winter Break
Have a great day!