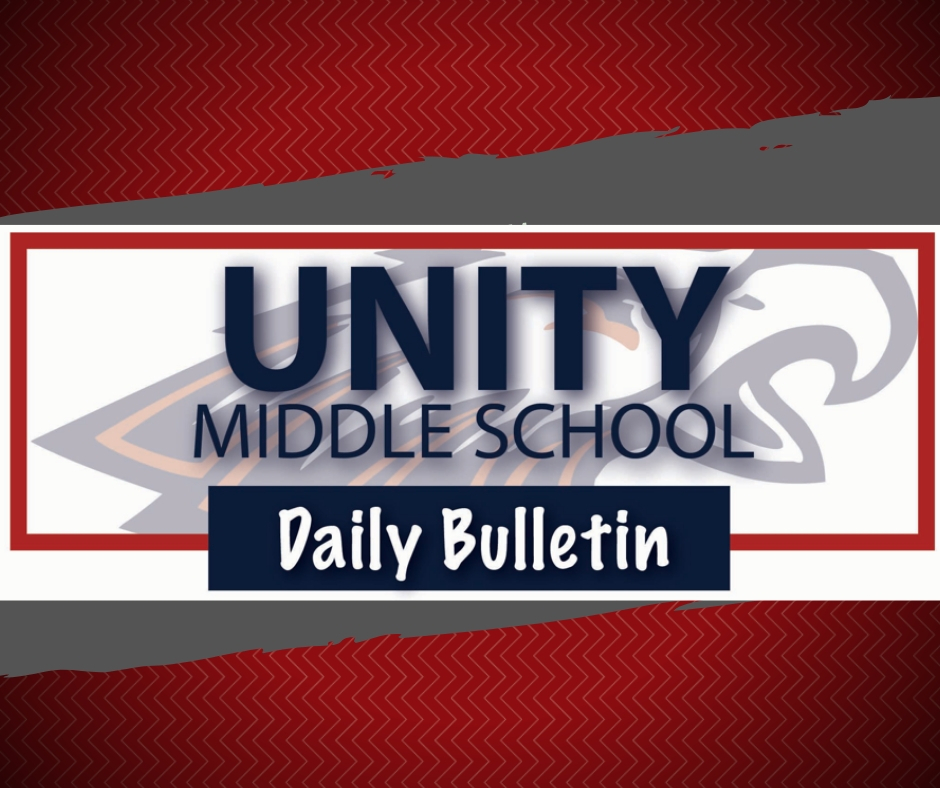 Middle School Announcements 1.17.2020
Amanda Warner
Friday, January 17, 2020
Friday, January 17, 2020
Announcements
THE MIDDLE SCHOOL WRESTLING MEET IN ELLSWORTH HAS BEEN CANCELLED – PLEASE LISTEN TO ANNOUNCEMENTS, LATER TODAY, IF PRACTICE WILL BE CANCELLED.
WRESTLERS SHOULD PLAN TO BE TO SCHOOL BY 3:00 ON MONDAY (1/20) TO BE ON THE BUS TO OSCEOLA (BUS LEAVES AT 3:15 SHARP!)
Reminder: Permission slips for the Reward Trip are due by TUESDAY, January 21st!
Do you want to work your way to becoming a better athlete? Are you in grade 7 through 12? If so, the Eagle Lifting Club is for you! The Eagle Lifting Club has started and runs on Mondays, Wednesdays and Thursdays from 3:45-5:00pm. Participants are responsible for their own transportation after the program ends each day. If you would like to join, grab a sign-up sheet in either the MS or HS office, get it signed and hand it in to Mr. Nelson or Mr. Otradovec.
Meetings
Reminders
Semester One Reward Trip Criteria:
1. No more than 2 Major ODRs between 12/10-1/24.
2. No Suspensions.
3. Money & Parent permission slip must be turned to the MS office no later than 1/21.
4. Meet the expectations of the grade level teaching team, regarding behavioral, attendance, & academic performance.
Please do not leave your winter clothing (coats, hats, gloves, boots, etc) in the hallway or on the benches during lunch and recess. Winter clothing needs to be stored in your locker when you are not wearing it.
Please remember to walk when exiting the buses and coming inside; the elementary students are much smaller than you and are unable to move as fast with their winter gear on.
Food Service
Lunch Today: Eagle Club Sandwich or PB&J, Cottage Cheese, Chips, Fresh Veggies, and Apple Sauce
Breakfast Tuesday: Bacon Scrambler Pizza
Lunch Tuesday: Taco Tuesday! Tacos in a bag w/fixings, Fiesta Beans and Pears
The Bistro Box is similar to a lunchable. It contains flatbread, turkey, cheese and hummus. Be sure to grab milk, fruit and veggies to go with this yummy pack. This is part of the grab and go lunch program and is available for everyone as a lunch.
Save Time in the Lunch Line: Take Fruit/Veggies Everyday! You must choose at least 1⁄2 cup of fruit, vegetable or a combination of the 2 in order to have a complete meal. This is a requirement of the National School Lunch Program. Be sure to take fruit and/or veggies as you go through the lunch line. If you don't, you will be sent back to the line to get fruit/veggies. Please be respectful of your lunch staff members and follow their directions.
Upcoming Events
January 20th: NO SCHOOL - Inservice
January 20th: MS Wrestling @ Osceola (Bus leaves at 3:15)
January 21st: MS Girls Basketball Game @ Home vs Siren
January 23rd: MS Girls Basketball Game @ Home vs Luck
January 24th: MS Reward Trip
January 30th: UWEC MS Honor Band
February 3rd: MS Forensics Meet @ SCF (bus leaves at 3:15)
Make it a GREAT day!