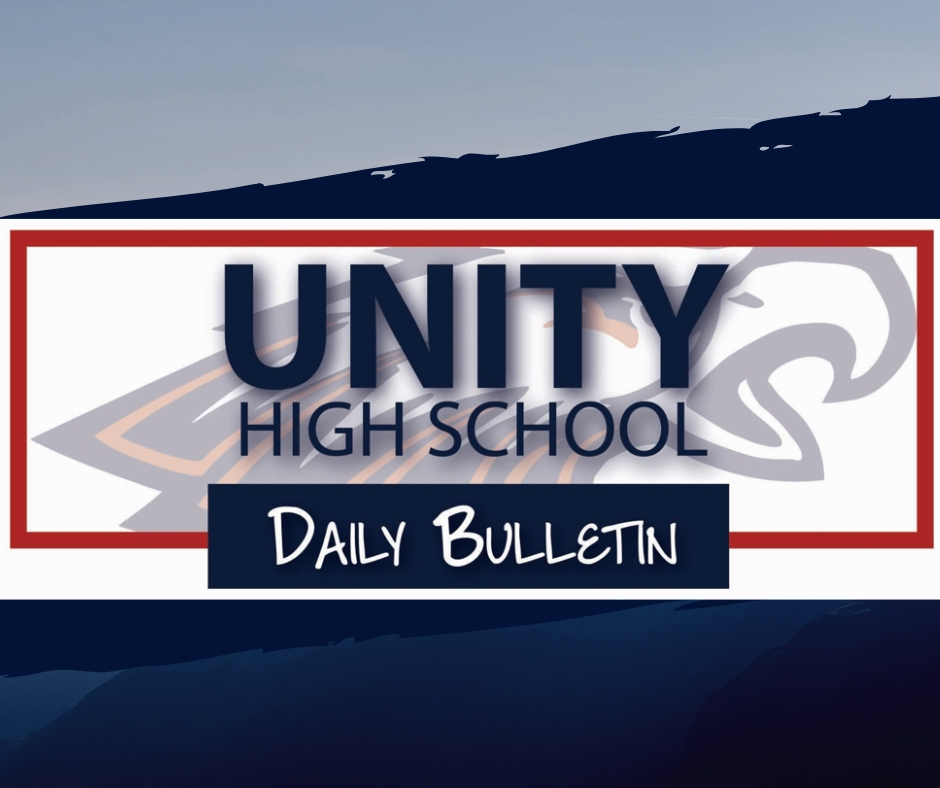 High School Announcements 1.30.2019
Unity High School
Thursday, January 30, 2020
January 30, 2020
Announcements:
The FFA is pleased to announce the results of last night's Leadership Development Event contests in St Croix Falls. Alexis Dargewicz placed 4th in Extemporaneous Speaking and 3rd in her round of the Discussion Meet. Molly Trieschmann placed 3rd in Employability Skills and 3rd in her round of the Discussion Meet. Congratulations to both of you for representing the Unity FFA so well!
Next week the Unity SkillsUSA Chapter will be hosting a Woodworking and Welding Sculpture competition during lunch to celebrate National SkillsUSA Week. Balsam Lake Hardware Hank has donated around $200 in prizes for 1st, 2nd, and 3rd places in both competitions. This is open to the entire school. If you are interested, please stop in and talk to Mr. Lee to sign up and get any safety tests you need done before next week. Winners will be announced next Friday during an assembly before lunch.
Have you looked out and saw the elementary students sledding and thought, "I want to do that!" Well, here is your chance! If you are interested, sign up on the email sent out by Ms. Eisenman The first 25 students WITH THEIR PRIVILEGE CARDS are eligible to sled :) --She will waitlist anyone who signs up after the first 25.
Attention Students: Reminder to download the grateful app in self service! Every day moving forward after announcements, enter what you are grateful for! Studies show gratitude has many benefits
Seniors - Reminder scholarships are due TOMORROW!
Quiz Bowlers - Submit $15 and t-shirt size to Ms. Dikkers, Devon Mares or Maggie Conlan.
Track Athletes - UW-River Falls Track Pass camp forms are available in the office.
Juniors - Don't forget to start selling cookie dough. Money and forms can be turned in TOMORROW! Get selling!
Senior reminder - you are to check into your resource hour before you leave for lunch privilege, and show your privilege card in the office. You are also to return on time and be present in your 4th hour class when the bell rings. It's a privilege to leave the building, please respect the guidelines.
Trollhaugen pass information is in the office.
Upcoming Meetings:
FFA officer meetings will be every 1st and 3rd Wednesday of the month during lunch in the ag room.
FFA chapter meetings for all regular members will be every 2nd and 4th Wednesday of the month during lunch in the ag room.
Upcoming Events:
Thursday: Wrestling @ Bruce
Friday: Wrestling @ Osceola
Girls/Boys Basketball @ Luck
Food Service:
Lunch today: Brunch Lunch
Breakfast Cart - Every day after 1st hour next to Mr. Collin's room.
Bistro Box - Every day at lunch in the cafeteria
Make it a great day!