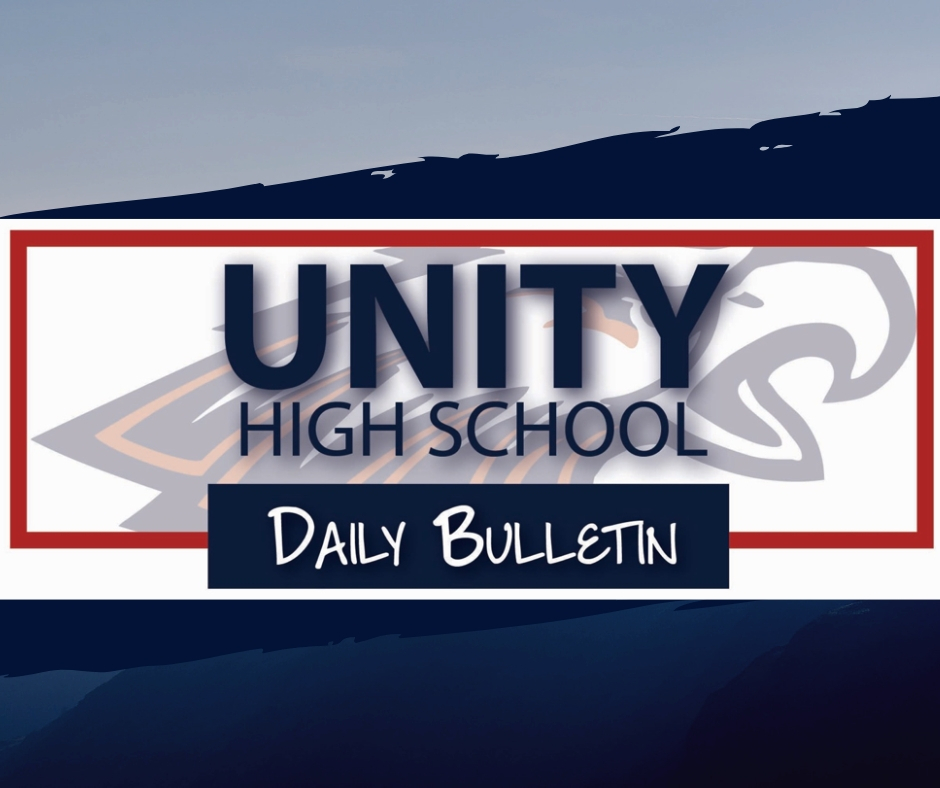 High School Announcements 2.7.2020
Unity High School
Friday, February 07, 2020
February 7, 2020
Announcements:
Students be sure to check your email for all the details of Snowball 2020. Snowball begins next week.
Here are the dress up days for the week:
Monday is Dynamic Duo Day - Think Batman and Robin, Sponge Bob and Patrick, Mr. and Mrs. Clause
Tuesday- Camo Day
Wednesday- Meme Day- google your favorite Meme and recreate it!
Thursday- Switch it up Day - Trade personalities and style with someone else for a day!
Friday- Spirit Day wear red, white and blue
There will be a video contest during Snowball week. Get your friends together and submit your best video. Your video must include SNOW in it (in the music, words, actual snow). On Friday February 14th, we will meet in the PAC to show all video submissions. Submit your video to the google folder that was emailed to you by next Thursday. Keep it school appropriate!
What are you grateful for? Open up your grateful app and type in 3 things every day you are grateful for. It could be as simple as:
A fresh cup of coffee
Snuggles with my cat
The workout I got in last night
A good lunch I am looking forward to
February is National Career and Technical Education Month and the CTE team at Unity would like to recognize one student each week that is doing outstanding work in agriculture, tech ed, and/or business education programs. This week's Student Leader from the CTE program is Charles Hinshaw. Chaz is a senior and son of Susan Brandt. He is a very tech savvy student and enjoys anything that deals with computers. He is always helping his fellow students and sometimes even teachers when they have an issue with their computers or computer programs. He also is a very creative person which truly shows when he is given a project and is able to run with it. Chaz has a great personality and sense of humor and is fun to be around. Chaz is doing a great job, and everyone can't wait to see what the future has in store for him!
SkillsUSA fact - Friday- Unity skills members will be competing on Feb. 27, 28, wish them luck!
Track Athletes - UW-River Falls Track Pass camp forms are available in the office.
Senior reminder - you are to check into your resource hour before you leave for lunch privilege, and show your privilege card in the office. You are also to return on time and be present in your 4th hour class when the bell rings. It's a privilege to leave the building, please respect the guidelines.
Trollhaugen pass information is in the office.
Upcoming Meetings:
FFA officer meetings will be every 1st and 3rd Wednesday of the month during lunch in the ag room.
FFA chapter meetings for all regular members will be every 2nd and 4th Wednesday of the month during lunch in the ag room.
Upcoming Events:
Saturday - Wrestling Conference Tournament @ Flambeau
Food Service:
Lunch today: Homemade Chili/Corn/Bread or PBJ/Grapes
Breakfast Cart - Every day after 1st hour next to Mr. Collin's room.
Bistro Box - Every day at lunch in the cafeteria
Make it a great day!