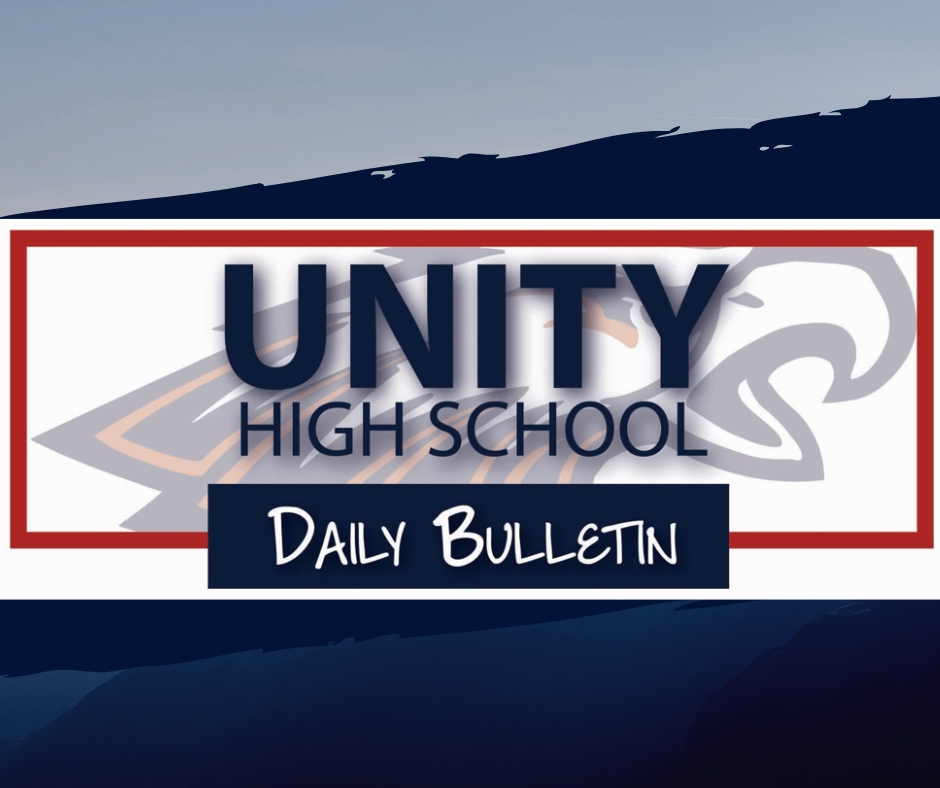 High School Announcements 2.12.2020
Unity High School
Wednesday, February 12, 2020
February 12, 2020
Announcements:
Soccer Registration information is in the office.
Snowball 2020 is here!
Here are the dress up days for Snowball this week:
Thursday- Switch it-up Day - Trade personalities and style with someone else for a day!
Friday- Spirit Day wear red, white and blue
Today's game at 11:30am in Gym 2 is Blindfolded Music Chairs.
There will be a video contest during Snowball week. Get your friends together and submit your best video. Your video must include SNOW in it (in the music, words, actual snow). On Friday February 14th, we will meet in the PAC to show all video submissions. Submit your video to the google folder that was emailed to you by tomorrow!. Keep it school appropriate!
The Snowball dance will be Friday February 14th from 7:00 - 10:00pm in the HS Cafeteria. Cost is $3 per person, $5 per couple. Come dressed in semi-formal attire. if you are bringing a guest from another school, you must pick up a guest form in the office. The form must be signed by the guest's parents and Principal.
What are you grateful for? Open up your grateful app and type in 3 things every day you are grateful for. It could be as simple as:
A fresh cup of coffee
Snuggles with my cat
The workout I got in last night
A good lunch I am looking forward to
Senior reminder - you are to check into your resource hour before you leave for lunch privilege, and show your privilege card in the office. You are also to return on time and be present in your 4th hour class when the bell rings. It's a privilege to leave the building, please respect the guidelines.
Upcoming Meetings:
Attention FFA members: There will be an FFA team event practice lunch in Mrs. Jagielo's classroom today at lunch. Please encourage your teammates to bring their lunch to the ag room and work on contest prepping.
FFA officer meetings will be every 1st and 3rd Wednesday of the month during lunch in the ag room.
FFA chapter meetings for all regular members will be every 2nd and 4th Wednesday of the month during lunch in the ag room.
Upcoming Events:
Thursday - Basketball @ Webster
Food Service:
Lunch today: Homemade Pepperoni Pizza Hotdish/Garlic Bread/Green Beans/Fresh Purple Grapes
Breakfast Cart - Every day after 1st hour next to Mr. Collin's room.
Bistro Box - Every day at lunch in the cafeteria
Make it a great day!
Reply

Reply all

Forward