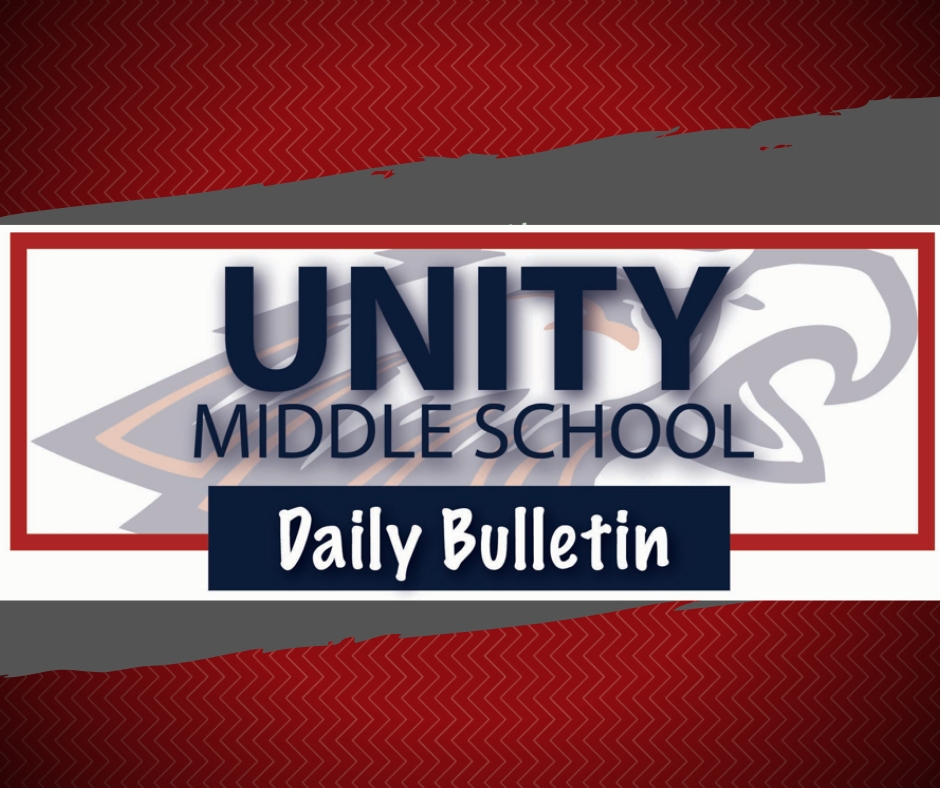 Middle School Announcements 3.5.2020
Unity Middle School
Thursday, March 05, 2020
Thursday, March 5, 2020
Announcements
Please dismiss the MS wrestlers at 2:45 today for their meet in Hayward (bus time is 3:00).
Congratulations to this year's badminton tournament champions!
8th grade A Day - Jaxon Tilton and Jake Erickson. 8th grade B Day - Josie Fugate. 7th grade A Day - Jack Ross and Bennett Mitchell. 7th grade B Day - Gabby Pecore and Alexus Molamphy. 6th grade A Day - Marcus Rankin and Jackson Bader. 6th grade B Day - Isaiah Fugate and Noah Cox.
Per District Policy:
Backpacks, duffle bags, purses, ect. are NOT allowed in classrooms. These items need to be stored in your locker until the end of the day.
Cell phones are also not allowed in classrooms. In the handbook, it states, "devices must be turned off and stored in a secure locker during regularly scheduled class times unless special permission has been granted by a teacher and/or building principal."
MIDDLE SCHOOL PLAY!!!!
Auditions for the Middle School Play will be Monday thru Wednesday next week!
Monday March 9th for 6th grade
Tuesday, March 10th for 7th grade
Wednesday, March 11th for 8th grade
Please prepare a minute of a song to sing for your audition. You will audition in front of Ms. Rivers and Mr. Esterberg ONLY. We will post the final cast list on Friday March 13th.
The show is a Juke-Box musical written by Ms. Rivers and Mr. Esterberg! It tells the story of two people, one that loves musicals, and the other hates them. The one that loves musicals tries to convince the other one how amazing they are through songs from classic musicals. It's a lot of fun!
See Ms. Rivers or Mr. Esterberg if you have any questions!
Please claim lost and found items by March 4. All remaining items will be collected and donated on March 5.
Meetings
Reminders
Track Athletes: UW-River Falls Track Pass camp forms available in the office.
There is information in the office for those interested in joining the St. Croix Falls AYSO Soccer program.
Food Service
Lunch Today: Chicken Nuggets w/ Dipping Sauces, Mac n' Cheese, Broccoli, and Bananas
Breakfast Tomorrow: Mini Cinnamon Rolls
Lunch Tomorrow: Grilled Cheese Sandwich, Tomato Soup, Fresh Veggies, and Mandarin Oranges
Save Time in the Lunch Line: Take Fruit/Veggies Everyday! You must choose at least 1⁄2 cup of fruit, vegetable or a combination of the 2 in order to have a complete meal. This is a requirement of the National School Lunch Program. Be sure to take fruit and/or veggies as you go through the lunch line. If you don't, you will be sent back to the line to get fruit/veggies. Please be respectful of your lunch staff members and follow their directions.
Upcoming Events
March 5th: Wrestling at Hayward (Bus leaves at 3:00)
March 6th: End of Trimester
March 9th: Parent Teacher Conferences (4:00-8:30)
March 10th: Combined 5th-12th Grade Band Concert 7pm
March 12th: Wrestling at Rice Lake (Bus leaves at 3:30)
March 16th-20th: Spring Break – No School
Make it a GREAT day!