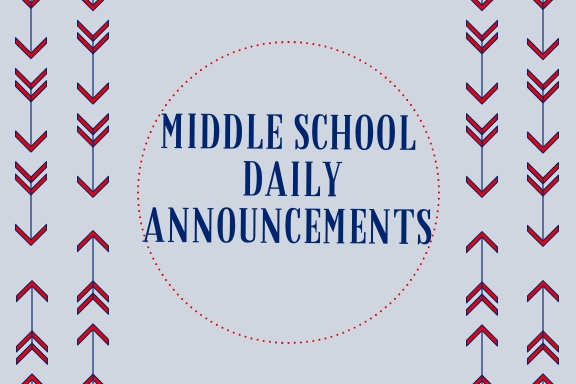 Middle School Announcements 11.5.2018
Unity Middle School
Monday, November 05, 2018
UNITY MIDDLE SCHOOL
DAILY BULLETIN
Monday, November 5, 2018
Today is a B/2 day
PBIS Celebration!!
Any student who does not earn a Major for Disruptions staring November 5th through November 16th, will be invited to attend a PBIS Celebration on Friday, November 16th in the afternoon!!!
RCU Middle School is open every Monday during lunch for students AND staff! They are located right in the cafeteria. Students who make a deposit into their RCU savings account of at least $0.50 will receive a free small malt this Monday! Staff members with RCU accounts can make deposits, withdrawals, loan payments, credit card payments, and cash checks. See you at RCU!
Notes from the Wellness Committee:
**Wellness Bingo sheets are due by November 7th. Turn in sheets to the Middle School Office.
**Please turn in your ideas!
There is a folder located in the MS Office
LUNCH TODAY:
Western Burger (Burger w/ Cheese, BBQ Sauce and Onion Rings), Baked Beans, and Blue Raspberry Slushies
BREAKFAST TOMORROW:
Breakfast Bites
LUNCH TOMORROW:
Nacho Poppers, Salsa for dipping, Seasoned Corn, and Mandarin Oranges
Dates to Remember:
November 7: Wellness BINGO sheets due
November 19-23: Fall Break