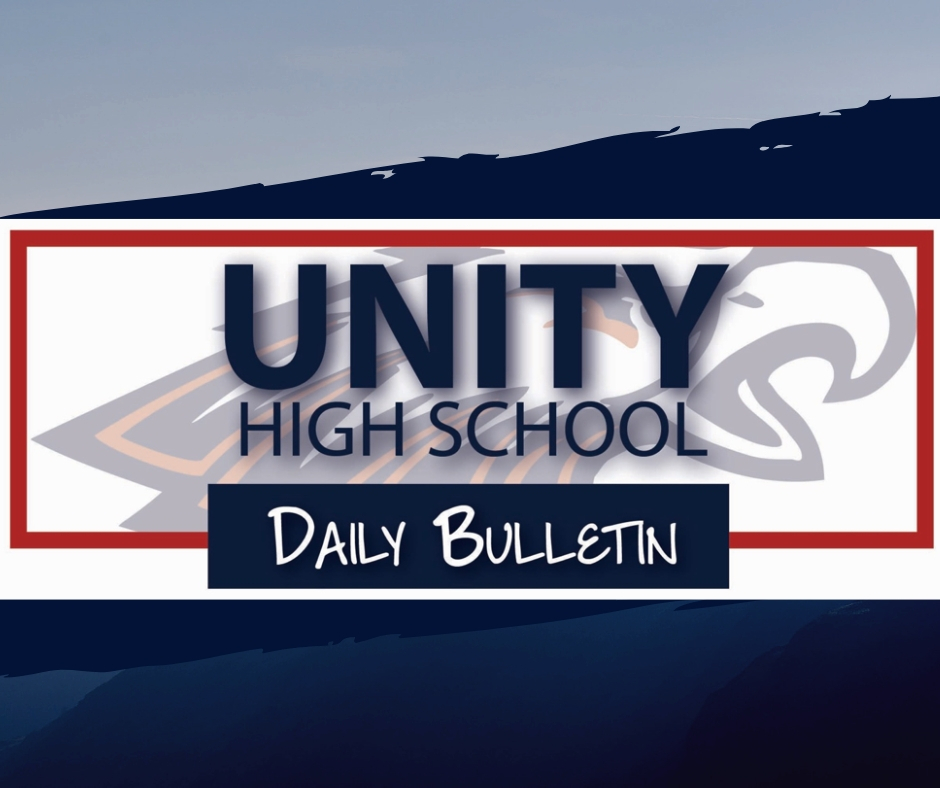 High School Announcements 4.18.2019
Unity High School
Thursday, April 18, 2019
Thursday, April 18, 2019
Announcements:
The track meet is canceled tonight. There WILL be practice.
Congratulations to Trystan Morehead, James Mullin, Keenan Hacker, and Colin Bahr on earning "Best in Site" for their Barbershop Quartet at this year's Solo & Ensemble. "Best in Site" means of all of the performances from the 10 schools in attendance, in their particular performance room, the judge thought they were superior to all. Well done, guys!
Volunteers/Community Service Hours are needed – to help clean the Gandy Dancer trail for Earth Day on April 22nd. If interested, contact Julia from Julia's Java. 715-825-5282
Unity FFA is looking for milk cans to paint for the state art competition. If you have one that is in decent shape, they are accepting donated cans. They will also pay a fair price if desired. See Natalie Mansheim for more information.
Meetings
Freshmen, Mr. Stencil sent an e-mail letting you know if you (qualify/age ready?) for Driver's Ed classroom. If you turn 16 before Jan 5, 2020 you should have received the message. Please meet today during 6th period in Gym 1.
Reminder:
Yearbooks - There are only 27 left! Order yours soon! See Mrs. Ahlgren!
Food Service
Lunch Today: Chicken Patty Sandwich (Grilled or Crispy) Corn, Pears
Breakfast Monday: Mini Pancakes
Lunch Monday: Mini Corndogs, Baked Beans, Fresh Oranges
Save Time in the Lunch Line: Take Fruit/Veggies every day! You must choose at least ½ cup of fruit, vegetable or a combination of the 2 in order to have a complete meal. This is a requirement of the National School Lunch Program. Be sure to take fruit and/or veggies as you go through the lunch line. If you don't, you will be sent back to the line to get fruit/veggies. Please be respectful of your lunch staff members and follow their directions.
Make it a great day!