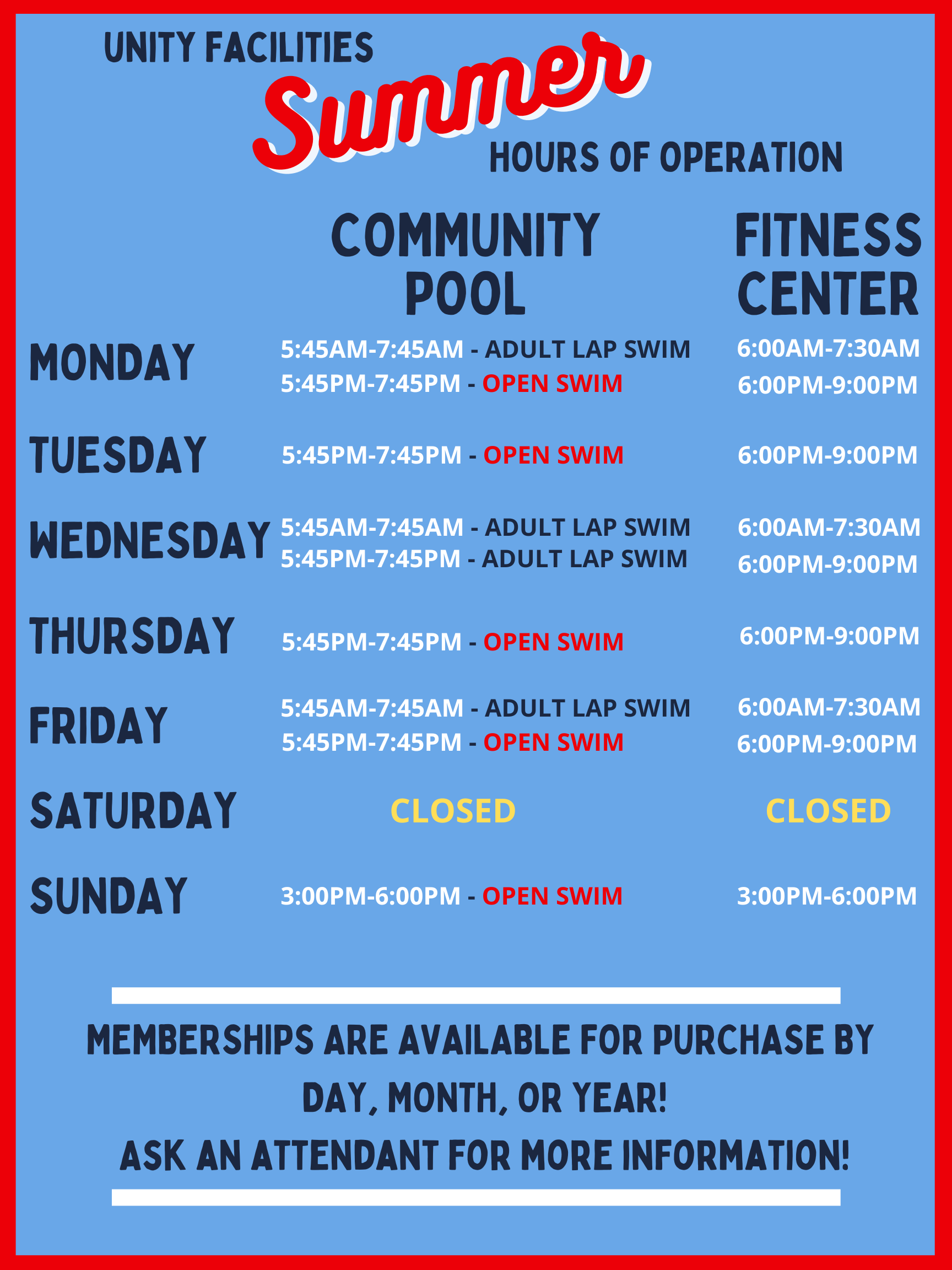 2022-2023 MEMBERSHIP FEES
| | | | |
| --- | --- | --- | --- |
| DAILY | Aquatic Center | Fitness Center | Wellness Membership* |
| Adult (Resident) | $3 | $3 | $4 |
| Adult (Non-Resident) | $4 | $4 | $5 |
| College Student/ Senior Citizen* | $2 | $2 | $3 |
| Student (Non-Resident) | $3 | $3 | $4 |
| Unity Student (7th-12th Grade) | $4 | FREE | NA |
| MONTHLY | | | |
| Adult (Resident) | $15 | $12 | $18 |
| Adult (Non-Resident) | $20 | $18 | $25 |
| Family (3+Members, Resident) | $25 | $21 | $30 |
| Family (3+Members, Non-Resident) | $30 | $30 | $35 |
| College Student/ Senior Citizen* | $10 | $10 | $15 |
| YEARLY | | | |
| Adult (Resident) | $60 | $125 | $150 |
| Adult (Non-Resident) | $75 | $200 | $250 |
| Family (3+Members, Resident) | $100 | $225 | $275 |
| Family (3+Members, Non-Resident) | $125 | $325 | $375 |
| College Student/ Senior Citizen* | $50 | $100 | $125 |
*WELLNESS CENTER MEMBERSHIPS INCLUDE BOTH THE AQUATIC CENTER AND FITNESS CENTER
*College Student must show current student ID
*Senior Citizen 55+
The Fitness Center Will Be Closed...
Holidays, and when there is no school and early release days.
Open To...
All residents. There are daily, monthly and yearly memberships to choose from. Please register upon your first visit to the fitness center. Students are free but must be in at least 6th grade and certified. Please make sure to sign in and out.
Questions?
Contact Cory Nelson at (715) 825-3515 Ext. 2205 or by email at cnelson@unity.k12.wi.us