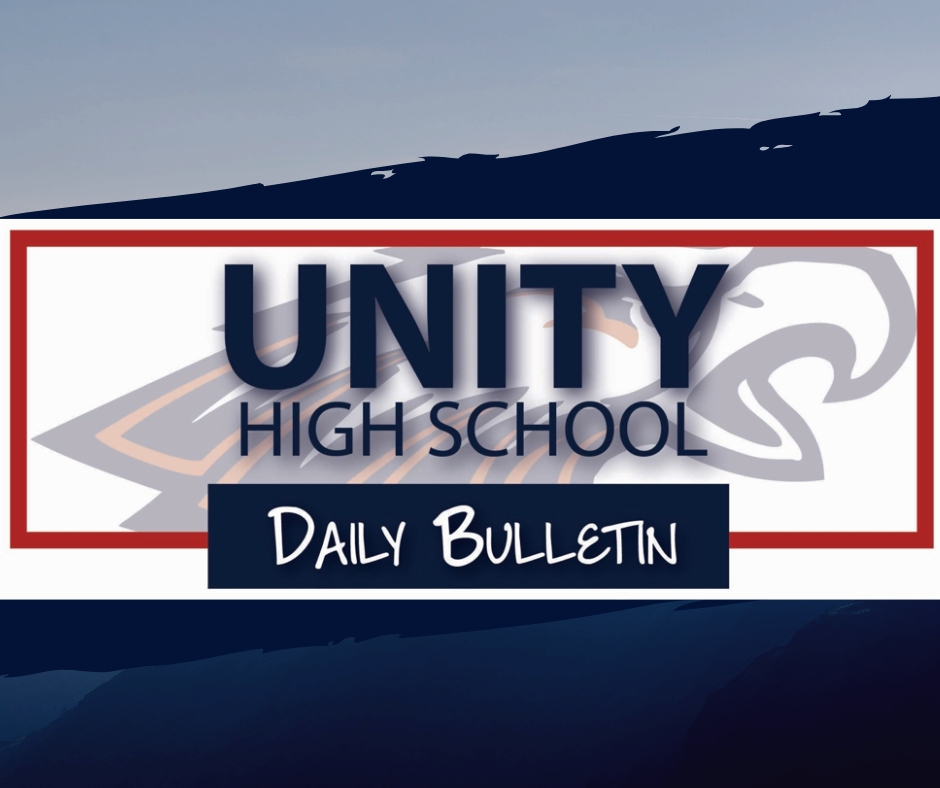 High School Announcements 4.30.2019
Unity High School
Tuesday, April 30, 2019
Tuesday, April 30, 2019
Announcements:
Congratulations to the Prom Court: Natalie Mansheim, Myah Nelson, Sophie Reed, Nakodah Tschida, Jake Bloom, Nick Frokjer, Jack Register, Nick Paulsen!
Congratulations to our track athletes for a successful evening last night!
Track Athletes – Stop in to Coach Johnson's room today to sign up to work the middle school track event tonight!
Seniors – The Allen LeMay Scholarship is due today. Don't miss your chance to apply for this amazing scholarship opportunity!
Attention students: This Wednesday the entire student body will be traveling to the Polk County Fairgrounds for an exciting day of career exploration. Please be aware of the weather conditions and dress appropriately. We suggest comfortable outdoor footwear and a light jacket. As always, be sure that the clothing worn is school appropriate. Unity clothing would be a great choice! Most displays are outdoors or in open buildings.
Boys Basketball – If you plan on playing summer basketball, please get your registration and payment to Coach Fisher, by May 1st.
Volunteers are needed Tuesday, May 7th for Elementary Safety Night after school until 7:30 p.m. Get your community involvement hours! Email Mr. Brown if you can help.
If you are a current sophomore or junior interested in signing up to be Milltown Royalty, please come to the office.
Unity FFA is looking for milk cans to paint for the state art competition. If you have one that is in decent shape, they are accepting donated cans. They will also pay a fair price if desired. See Natalie Mansheim for more information.
Seniors 18 and older – Nick's Trucking and Excavating is Balsam Lake is looking for a motivated, punctual, and responsible individual interested in the excavating field. If you are interested in being a laborer/equipment operator, we will train you. Compensation is based on performance. Benefits available include health insurance, retirement plan, and paid time off. If interested, please come to the office for contact information.
NOTICE OF POSITIONS OPENING
SUMMER STUDENT MAINTENANCE WORKER
Position: Unity School District is now accepting applications for its summer student worker program.
Qualifications Necessary: Candidates must be 16 years of age, with a valid driver's license, have the ability to
work outdoors frequently, good time management skills, and the ability to follow directions.
How to Apply: To apply, please complete an employment application and a cover letter explaining your
interest in the position along with one letter of recommendation. The employment application can be found
on the Unity School District webpage, under Employment Opportunities. Hard copies of the employment
application are also available in the district office. Please submit the application and cover letter to Amanda
Warner in the District Office or by email at awarner@unity.k12.wi.us.
Application Deadline: May 8th, 2019
The Osceola Rod and Gun Club – is looking for workers this summer. If interested, please email Mr. Johnson and he will get you the contact information for this position.
A local lawn care business – is looking for summer help. If interested, please reach out to Mr. Johnson for the contact information.
Meetings
High School Summer Volleyball Meeting – Monday, May 6th @ 6:00 p.m. in the Elementary Cafeteria. Please make sure to attend as important information will be given for the summer and fall session.
Upcoming Events
Thursday: Track @ Webster
Softball @ Cameron
Friday: Track @ New Richmond
Baseball @ Webster
Prom 2019 - A Rustic Night Under the Stars is Saturday May 4th at Paradise Landing. The Grand March will be at 7pm. Tickets will go on sale starting Wednesday at lunch. Tickets are $20 per person or $30 per couple. Guest permission slips are available in the office.
Food Service
Lunch Today: Tacos in a Bag/Refried Beans/Grapes
Breakfast Wednesday: Lumberjacks
Lunch Wednesday: Cheeseburger/Potato Tots/Peaches
Save Time in the Lunch Line: Take Fruit/Veggies every day! You must choose at least ½ cup of fruit, vegetable or a combination of the 2 in order to have a complete meal. This is a requirement of the National School Lunch Program. Be sure to take fruit and/or veggies as you go through the lunch line. If you don't, you will be sent back to the line to get fruit/veggies. Please be respectful of your lunch staff members and follow their directions.
Make it a great day!