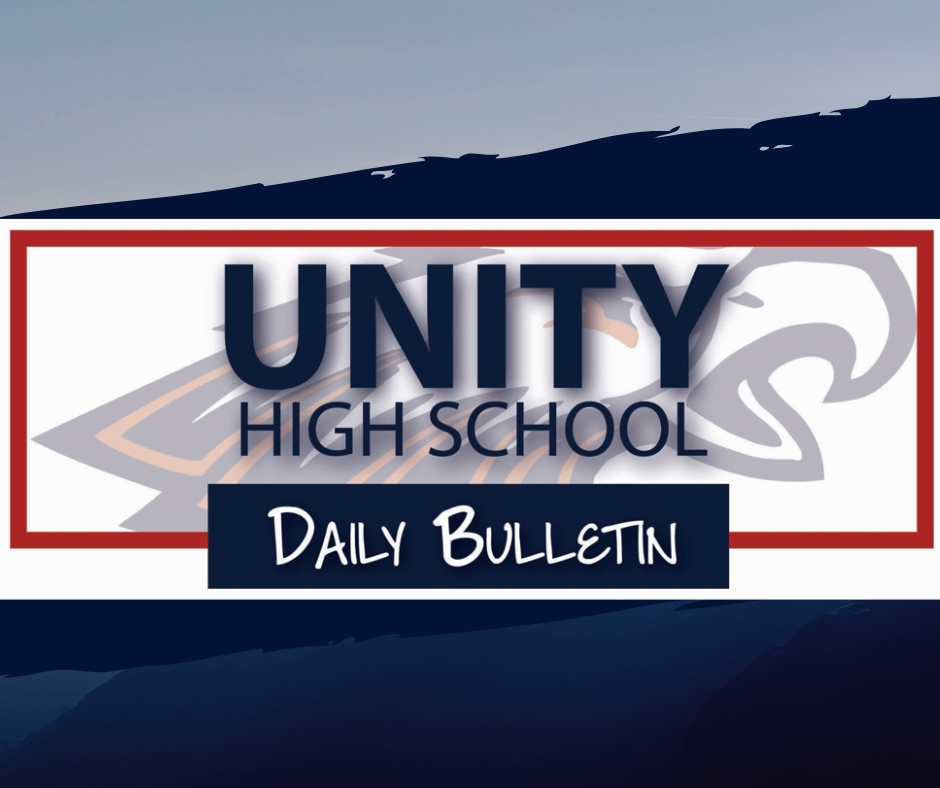 High School Announcements 5.10.2019
Unity High School
Friday, May 10, 2019
Friday, May 10, 2019
Announcements:
If you are a current sophomore or junior interested in signing up to be Milltown Royalty, please come to the office.
Seniors 18 and older – Nick's Trucking and Excavating is Balsam Lake is looking for a motivated, punctual, and responsible individual interested in the excavating field. If you are interested in being a laborer/equipment operator, we will train you. Compensation is based on performance. Benefits available include health insurance, retirement plan, and paid time off. If interested, please come to the office for contact information.
Brow Tine Restaurant and Event Center - is looking for bussers, waitstaff, and dishwashers. If you are interested in applying for any of these positions, please contact Barbara or Mella @ 715-268-6262
Upcoming Events
Saturday: Baseball vs. Amery/Rice Lake (H)
Reminder
Yearbooks – Did you hear the yearbooks are in? There are only 18 left and they are awesome! See Mrs. Ahlgren!
Food Service
COMING SOON TO THE HS LUNCH LINE!!!
WE WOULD LIKE TO INTRODUCE THE NEW PIZZERIA LANE! Starting on Monday, May 20th you will see your regularly scheduled lunch in one line, BUT, in the other line you will see pizzeria themed items each day. Some items that will be featured in the PIZZERIA LANE will be Big Daddy's Pizza Slices, Pizza Calzones, Italian Dunkers, Italian Cheesy Flatbread and other favorite pizza themed items.
Lunch Today: Homemade Cheesy Mac Hot Dish, Steamed Corn, Dinner Roll, Mandarin Oranges
Make it a great day!