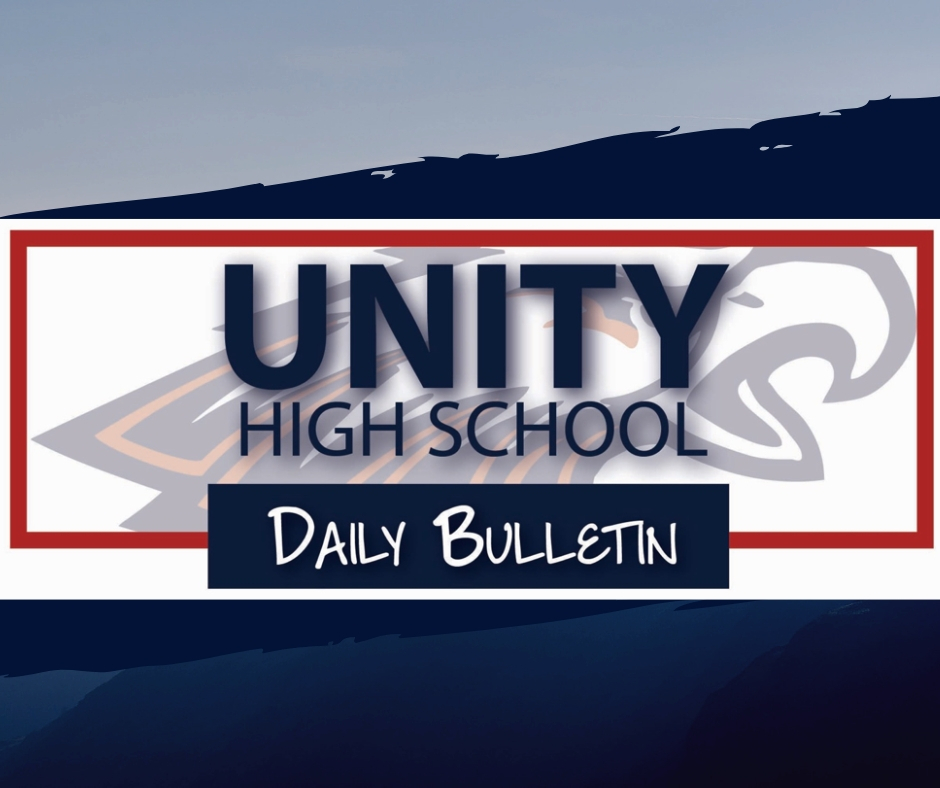 High School Announcements 5.23.2019
Unity High School
Thursday, May 23, 2019
Thursday, May 23, 2019
Congratulations to the golfers for advancing to Sectionals next Tuesday in Cumberland!
Congratulations Track Athletes on your Regional Tournament. The following athletes are moving on to Sectionals today in Cameron.
Autumn Lowe - High Jump
Raegan Sorensen - Pole Vault
Carly Nelson - Shot Put
Emily Jorgensen - 3200 m
Lauren Jorgensen - 3200 m
Thomas Cable - High Jump
Kyle Golz - Long Jump
Harrison Zipperer - Pole Vault
Reeden Fisher - 110 High Hurdles
Reeden Fisher - 300 m IM Hurdles
Luke Flaherty - 100m
Cullen Feist - 3200m
Mason Brown - 3200 m
4 x 800 Relay - Caleb VB., Kyle G., Dan S., Mason B., Cullen F., Ethan F.
4 x 400 Relay - Thomas C., Blane T., Kyle G., Caleb VB., Dan S., Mason B.
4 x 200 Relay - Chris W., Tristan K., Jeremy B., Harrison Z., Julien T., Adam W.
4 x 100 Relay - Julien T., Reeden F., Caleb VB., Luke F., Adam W., Harrison Z.
Announcements:
Track Athletes – Please turn in uniforms/sweats. Charges WILL be added to your student account if they are not returned.
Sweats - $64 Uniform - $44
The Eagle Pride School Store will be open Friday from 7:45 - 8:15 and 11:30 to 12:15. This will be the last day of the school year the store is open for business. Where did the time go!!! Many items will be significantly reduced in price. We hope you can stop by and get some final deals!
Simply Strong participants: Don't forget to meet 6th hour in the Fitness Center on Tuesdays and Thursdays!
If you are interested in running for Miss Balsam Lake and are a current sophomore or junior, please sign up in the office.
If you are a current sophomore or junior interested in signing up to be Milltown Royalty, please come to the office.
Upcoming Event
Thursday: Sectional Track @ Cameron
Regional Baseball @ Luck
*************************************
Senior Week:
Thursday – Senior Cookout
Reminder
Yearbooks – There are only 13 left and they are awesome! The cost is $50 – stop by Mrs. Ahlgren's room and pick yours up today!
Food Service
WE WOULD LIKE TO INTRODUCE THE NEW PIZZERIA LANE! Starting TODAY, you will see your regularly scheduled lunch in one line, BUT, in the other line you will see pizzeria themed items each day. Some items that will be featured in the PIZZERIA LANE will be Big Daddy's Pizza Slices, Pizza Calzones, Italian Dunkers, Italian Cheesy Flatbread and other favorite pizza themed items.
Lunch today: Orange or Siracha Chicken/Rice/Steamed Broccoli/Pineapple
Breakfast Friday: Mini Cinnamon Rolls
Lunch Friday: Eagle Club Sandwich or Turkey Salad Sandwich/Chips/Fresh Veggies/AppleSauce
Save Time in the Lunch Line: Take Fruit/Veggies every day! You must choose at least ½ cup of fruit, vegetable or a combination of the 2 in order to have a complete meal. This is a requirement of the National School Lunch Program. Be sure to take fruit and/or veggies as you go through the lunch line. If you don't, you will be sent back to the line to get fruit/veggies. Please be respectful of your lunch staff members and follow their directions.
Make it a great day!