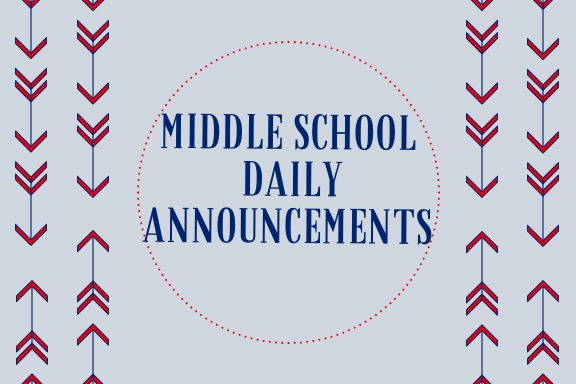 Middle School Announcement 11.1.2018
Unity Middle School
Thursday, November 01, 2018
UNITY MIDDLE SCHOOL
DAILY BULLETIN
Thursday, November 1, 2018
Today is a B/3 day
**BAND AND CHOIR CHANGES**
Thursday: Choir
Friday: Band
RCU Middle School is open every Monday during lunch for students AND staff! They are located right in the cafeteria. Students who make a deposit into their RCU savings account of at least $0.50 will receive a free small malt this Monday! Staff members with RCU accounts can make deposits, withdrawals, loan payments, credit card payments, and cash checks. See you at RCU!
Notes from the Wellness Committee:
**Wellness Bingo sheets are due by November 7th. Turn in sheets to the Middle School Office.
**Please turn in your ideas!
There is a folder located in the MS Office
LUNCH ETIQUETTE: Make sure you clean up your area when you are done eating. YOU are responsible for dumping your own tray. If this is not followed, you will receive a major.
LUNCH TODAY:
Brunch Lunch! French Toast Sticks, Sausage, Potato Smiles and Peaches
BREAKFAST TOMORROW:
Pancakes/Sausage
LUNCH TOMORROW:
Chicken Bites, Broccoli w/ Cheese Sauce, Soft Bake Pretzel, and Pears
Dates to Remember:
November 7: Wellness BINGO sheets due
November 19-23: Fall Break
BUS DUTY:
10/29 SHAWN PERKINS
11/5 LAURA BIRLING