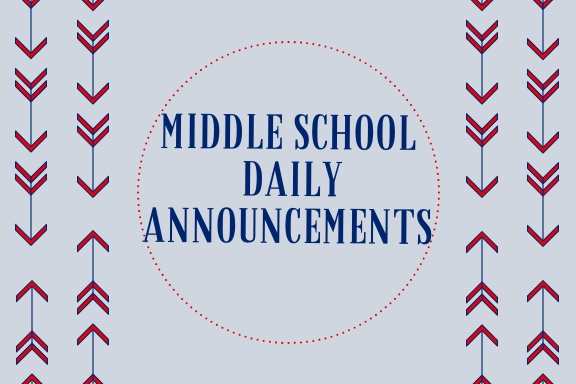 Middle School Announcements 11.12.2018
Unity Middle School
Monday, November 12, 2018
UNITY MIDDLE SCHOOL
DAILY BULLETIN
Monday, November 12, 2018
Destination Imagination forms are due TODAY!
Thursday we will host the first "Privilege" reward hat day. Pay three tickets and you can wear your hat all day.
FRIDAY will be PJ day.
RCU Middle School is open every Monday during lunch for students AND staff! They are located right in the cafeteria. Students who make a deposit into their RCU savings account of at least $0.50 will receive a free small malt this Monday! Staff members with RCU accounts can make deposits, withdrawals, loan payments, credit card payments, and cash checks. See you at RCU!
LUNCH TODAY:
Homemade Chili & Cornbread or PB&J, Roasted Rainbow Carrots and Fresh sliced Apples
BREAKFAST TOMORROW:
Cheesy Eggs and Toast
LUNCH TOMORROW:
Chicken Patty, Broccoli, and Pears
Dates to Remember:
November 12th: Veteran's Day Program
November 19-23: Fall Break