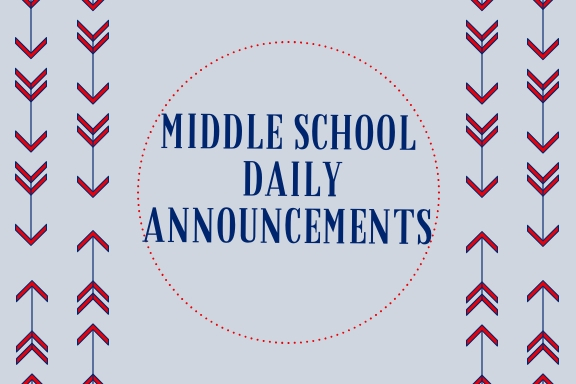 Middle School Announcements 11.26.2018
Unity Middle School
Monday, November 26, 2018
UNITY MIDDLE SCHOOL
DAILY BULLETIN
Monday, November 26, 2018
Welcome back!
LUNCH TODAY:
Pizza Dippers & Sauce, Crinkle Cut Carrots, and Strawberry/Pomegranate Slushies
BREAKFAST TOMORROW:
Sunrise Muffin (Egg/Ham)
LUNCH TOMORROW:
Tacos w/ Fixins, Fiesta Beans, and Mandarin Oranges
RCU Middle School is open every Monday during lunch for students AND staff! They are located right in the cafeteria. Students who make a deposit into their RCU savings account of at least $0.50 will receive a free small malt this Monday! Staff members with RCU accounts can make deposits, withdrawals, loan payments, credit card payments, and cash checks. See you at RCU!
Dates to Remember:
12/24-31: Winter Break