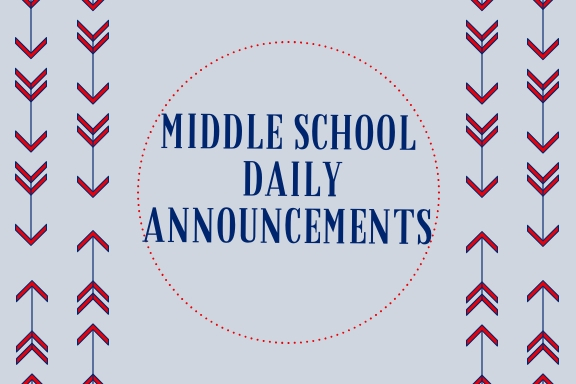 Middle School Announcements 11.27.2018
Unity Middle School
Tuesday, November 27, 2018
UNITY MIDDLE SCHOOL
DAILY BULLETIN
Tuesday, November 27, 2018
LUNCH TODAY:
Tacos w/ Fixins, Fiesta Beans, and Mandarin Oranges
BREAKFAST TOMORROW:
French Toast Sticks
LUNCH TOMORROW:
Pasta Bar w/ Choice of Chicken Alfredo or Spaghetti Sauce, Bread Stick, Steamed Broccoli and Apple Slices
RCU Middle School is open every Monday during lunch for students AND staff! They are located right in the cafeteria. Students who make a deposit into their RCU savings account of at least $0.50 will receive a free small malt this Monday! Staff members with RCU accounts can make deposits, withdrawals, loan payments, credit card payments, and cash checks. See you at RCU!
Dates to Remember:
12/24-31: Winter Break