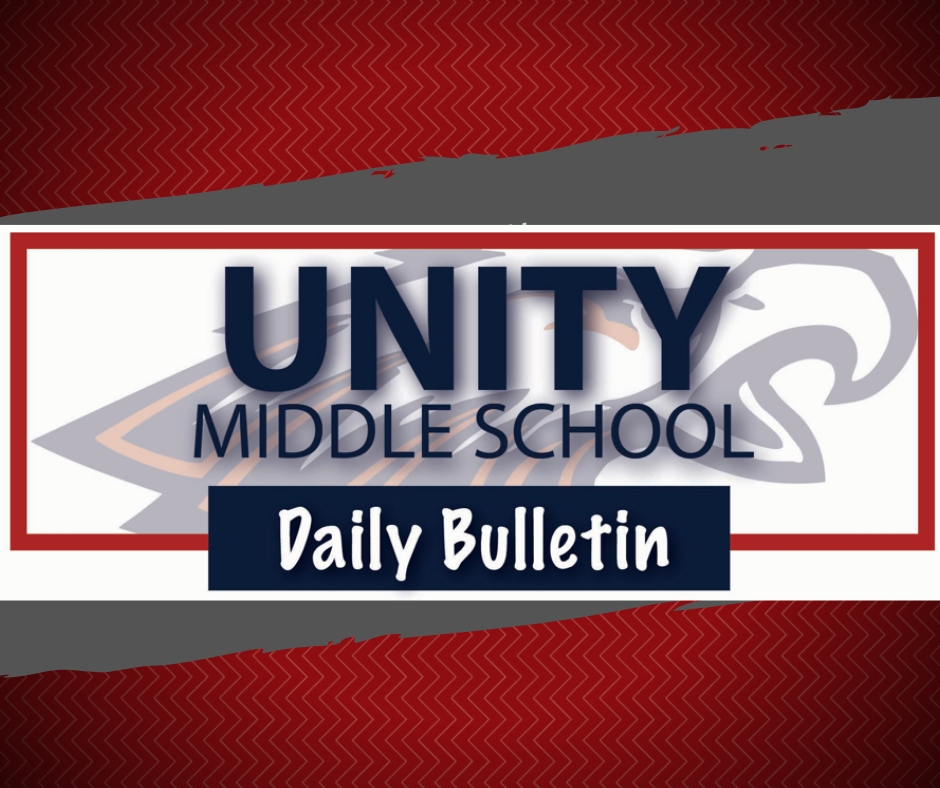 Middle School Announcements 9.9.2019
Unity Middle School
Monday, September 09, 2019
Monday, September 9, 2019
Announcements
7th and 8th Grade Students: Starting on Monday the 9th, Grab and Go meals will be available at the snack window. Each day we will have 2 grab and go meal options. Every day, we will have the PB&J Snacker Pack (Uncrustable, String Cheese, Cheez It Crackers, Applesauce Cup) as well as a second rotating option (Chicken Caesar Wrap, Yogurt Parfait, Italian Sub, Bean and Cheese Nachos, etc). These grab and go meals all come with milk, fruit and veggies at the regular lunch price.
Meetings
Reminders
Reminder: If you are signed up for flag football, the league (practices/games) starts next Saturday, September 14th. Please make sure to be there at the correct time to receive your jerseys!
Food Service
Lunch Today: Pizza Dippers and Marinara Sauce, Crinkle Cut Carrots, and Fresh Apples
Breakfast Tomorrow: French Toast Sticks
Lunch Tomorrow: Taco Tuesday! Tacos w/ Fixins, Refried Beans, and Pineapple
Save Time in the Lunch Line: Take Fruit/Veggies Everyday! You must choose at least 1⁄2 cup of fruit, vegetable or a combination of the 2 in order to have a complete meal. This is a requirement of the National School Lunch Program. Be sure to take fruit and/or veggies as you go through the lunch line. If you don't, you will be sent back to the line to get fruit/veggies. Please be respectful of your lunch staff members and follow their directions.
Upcoming Events
Friday, September 20th: Homecoming & Early Release