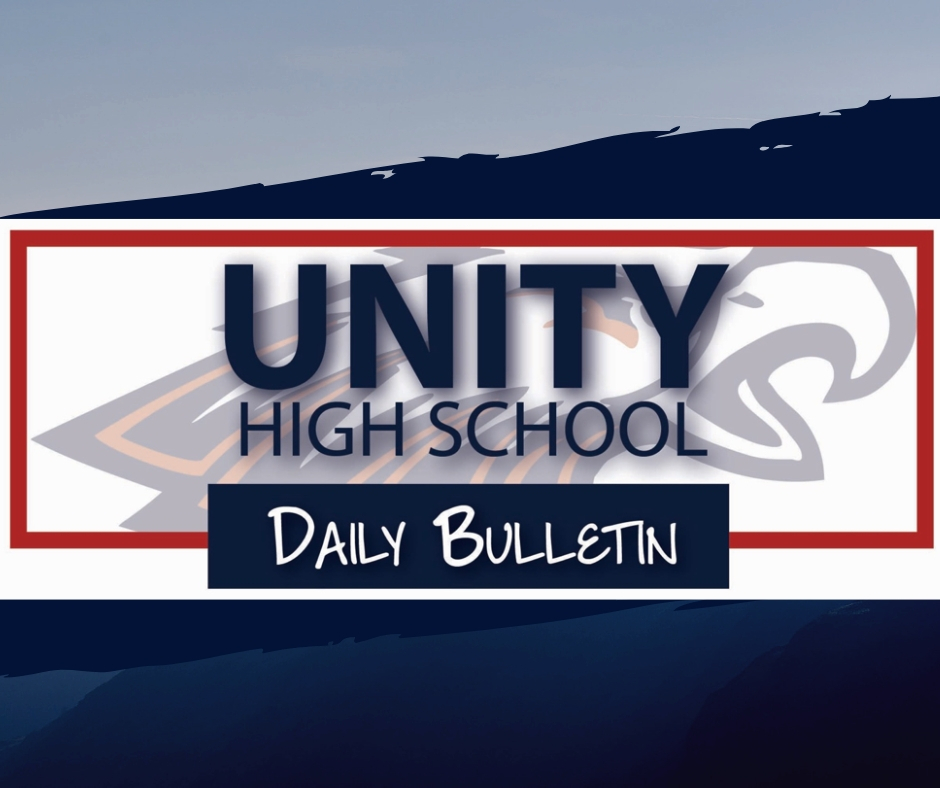 High School Announcements 9.17.2019
Unity High School
Tuesday, September 17, 2019
Tuesday, September 17, 2019
Announcements:
Fall Musical:
We need Extras! If you were interested in being in the fall musical, but didn't make it to auditions, we are still in need of Extras/Chorus members. You will not have to sing a solo, nor do you need to prepare a monologue for it. If you are interested, please see Ms. Wren Rivers or Mrs. Martinson. We would be glad to have you as part of the show! And, YES, you can be in a sport AND in the show.
Subway in Balsam Lake is hiring. Stop in to Subway for more information.
The school store will be open from 11:30 – 12:30 p.m. today and after school. Go get your spirit shirt!
Tuesday September 17th
Two Color Tuesday (Boys wear white, Girls wear black, Staff wear Neon)
High School 11:30am Games - Donut on a string
Cross Country, 4pm @ Rice Lake
Tennis, 4pm @ Amery
Soccer, 4:30pm @ Unity vs Barron
Middle School Volleyball, 4:30pm @ Unity vs Webster
Volleyball, 7:15pm @ Webster
Wednesday September 18th
Warm Weather Wednesday (Hawaiian/beach wear)
High School 11:30am Games - Battle Ball
Thursday September 19th
Team Sports Thursday (Seniors - any sport, Juniors- basketball, Sophomores - football, Freshman - baseball/softball, Staff - throwback)
Fall Sports Autographs - 11:00-11:30am, Elementary Playground
High School 11:30am Games - Spirit Makeup Challenge
Tennis, 4:30pm @ Unity vs Baldwin Woodville
Middle School Football, 5pm @ Unity vs Granstburg
Friday September 20th
Festive Friday (School Spirit Day)
Cross Country Team to run the Game Football from Webster to Centuria
High School 8:30am-9:15am Boys Volleyball Games in Gym 1
High School 9:15-10:15am Variety of Activities
10:30 Bus loading
11:00am Homecoming 2019 Parade in Centuria
High School 11:45am Girls Flag Football Games, ROK Stadium
Homecoming King Coronation at the Flag Football Games
Homecoming Community Tailgate Picnic, 5-6:30pm, Elementary Playground
Homecoming Football Game vs Webster, ROK Stadium 7pm
Homecoming Queen Coronation at Halftime of the Football Game
High School Homecoming Dance, after the football game until 11:30pm in the HS Cafeteria – If you are bringing a guest, pick up a form in the office - the form must be signed by the guest's parents and Principal
Upcoming Meetings:
FFA officer meetings will be every 1st and 3rd Wednesday of the month during lunch in the ag room.
FFA chapter meetings for all regular members will be every 2nd and 4th Wednesday of the month during lunch in the ag room.
Upcoming Events
Tuesday: Cross Country @ Rice Lake – dismiss @ 1:30p.m.
Tennis @ Amery – dismiss @ 2:45p.m.
Soccer vs. Barron @ Unity
Volleyball @ Webster – dismiss @ 3:00p.m. Please wear purple in support of the Clayton volleyball program who lost one of their student athletes.
Thursday: Tennis vs. Baldwin-Woodville (H)
Friday: Football vs. Webster (H)
Food Service:
Grab and Go meals will be available at the snack window. Each day we will have 2 grab and go meal options. Every day, we will have the PB&J Snacker Pack (Uncrustable, String Cheese, Cheez It Crackers, Applesauce Cup) as well as a second rotating option (Chicken Caesar Wrap, Yogurt Parfait, Italian Sub, Bean and Cheese Nachos, etc). These grab and go meals all come with milk, fruit and veggies at the regular lunch price.
Lunch Today: Italian Dunkers/Green Beans/Pineapple
MAKE IT A GREAT DAY!