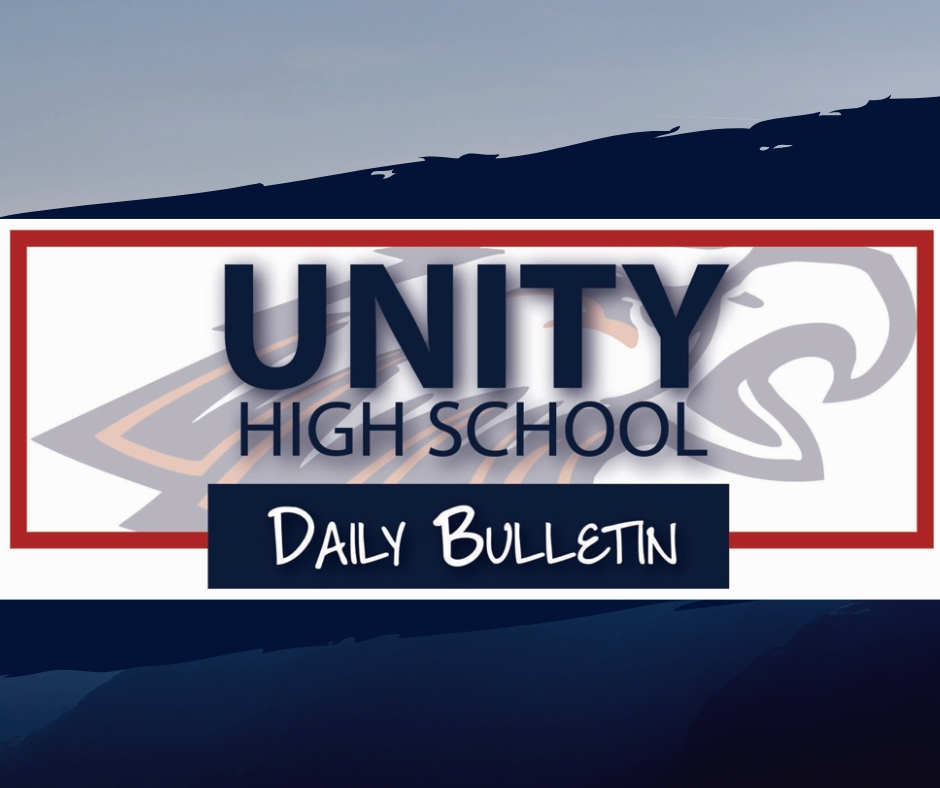 High School Announcements 11.19.2019
Unity High School
Tuesday, November 19, 2019
Tuesday, November 19, 2019
Announcement:
The FFA would like to remind everyone of the blood drive Unity is hosting tomorrow in gym 2. The Red Cross will be arriving around 10:30 to begin set up in the gym. The drive will run from 12:00-5:00 pm. Teachers will have access to a live document that shows when students are checking in and checking out. All student donors will have a Red Cross hall pass with their designated donation time on it. Students please be sure to have your hall pass on you when going to donate blood. Only blood drive volunteers and student donors will be allowed in the gym during the blood drive. Do not go into the gym to visit your friends that are donating. You will be asked to leave. The FFA would like to extend a thank you to everyone for being flexible and supportive of the blood drive.
Open Wrestling Mats: Tuesdays and Thursdays in the upper gym
3:45 p.m. - 5:00 p.m.
Yearbooks are selling fast. Don't wait, order yours today! See Mrs. Ahlgren for details.
Senior reminder - you are to check into your resource hour before you leave for lunch privilege, and show your privilege card in the office. You are also to return on time and be present in your 4th hour class when the bell rings. It's a privilege to leave the building, please respect the guidelines.
Trollhaugen pass information is in the office.
Upcoming Meetings:
FFA officer meetings will be every 1st and 3rd Wednesday of the month during lunch in the ag room.
FFA chapter meetings for all regular members will be every 2nd and 4th Wednesday of the month during lunch in the ag room.
Upcoming Events:
Tuesday - Girls Basketball @ Barron
Thursday - Girls Basketball vs. Somerset (H)
Food Service:
Grab and Go meals will be available at the snack window. Each day we will have 2 grab and go meal options. Every day, we will have the PB&J Snacker Pack (Uncrustable, String Cheese, Cheez It Crackers, Applesauce Cup) as well as a second rotating option (Chicken Caesar Wrap, Yogurt Parfait, Italian Sub, Bean and Cheese Nachos, etc). These grab and go meals all come with milk, fruit and veggies at the regular lunch price.
Lunch today: Brunch Lunch
Make it a great day!