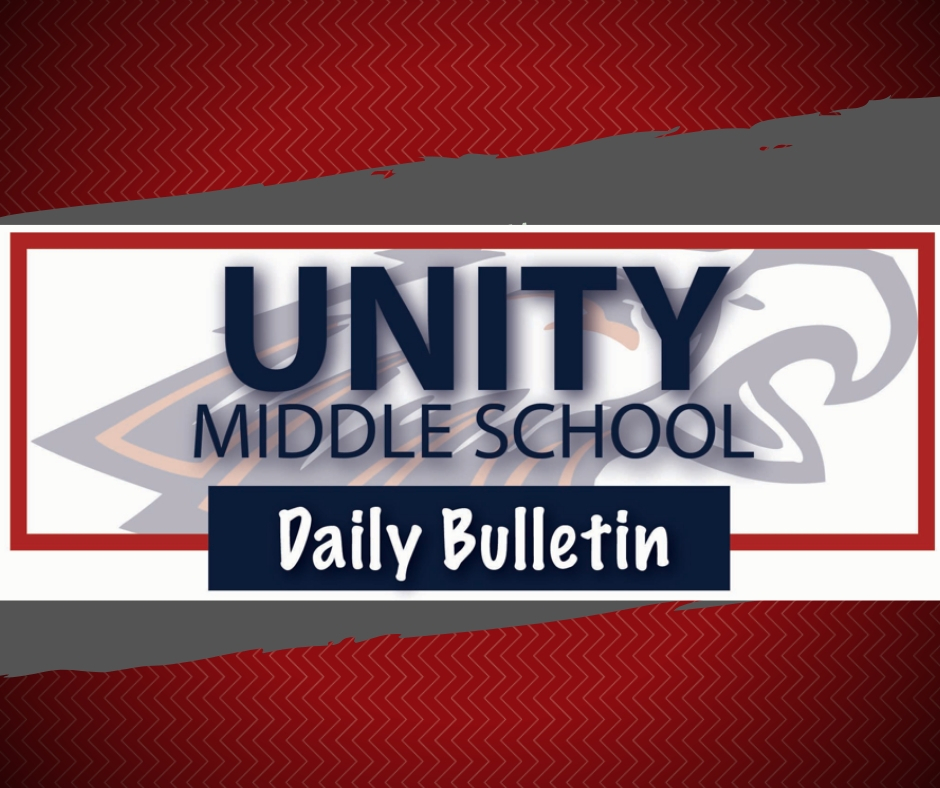 Middle School Announcements 12.16.2019
Unity Middle School
Monday, December 16, 2019
Monday, December 16, 2019
Today is a B/1 day.
Announcements
5th grade PE is back in the middle school gym.
MS FORENSICS: Our first after school practice is tonight from 3:35-5:00 followed by a parent meeting. If you are not able to make it please see Mrs. Johnson.
Snow hills are off limits!
This will help reduce conflicts and keep all of you safe.
Be on the lookout for a black and green basketball. If found, please bring it to the Middle School Office.
Meetings
GRADES 5th - 8th: MS Wrestling sign up meeting on Wednesday @ 12:14 in Room 210.
Reminders
5th grade PE students who have chosen to take home their jump ropes need to remember to bring them to PE class.
Please do not leave your winter clothing (coats, hats, gloves, boots, etc) in the hallway or on the benches during lunch and recess. Winter clothing needs to be stored in your locker when you are not wearing it.
Please remember to walk when exiting the buses and coming inside; the elementary students are much smaller than you and are unable to move as fast with their winter gear on.
Food Service
Lunch Today: Pizza Calzones, Roasted Cauliflower, and Fresh Purple Grapes
Breakfast Monday: Waffles
Lunch Monday: Hot Dog w/ Fixins, Baked Beans, and Bananas
The Bistro Box is similar to a lunchable. It contains flatbread, turkey, cheese and hummus. Be sure to grab milk, fruit and veggies to go with this yummy pack. This is part of the grab and go lunch program and is available for everyone as a lunch.
Save Time in the Lunch Line: Take Fruit/Veggies Everyday! You must choose at least 1⁄2 cup of fruit, vegetable or a combination of the 2 in order to have a complete meal. This is a requirement of the National School Lunch Program. Be sure to take fruit and/or veggies as you go through the lunch line. If you don't, you will be sent back to the line to get fruit/veggies. Please be respectful of your lunch staff members and follow their directions.
Upcoming Events
December 19: Talking Circle
December 19: Boys Basketball Game @ Grantsburg – Dismiss @ 3:10
December 23rd-January 1st: Winter Break
Have a great day!