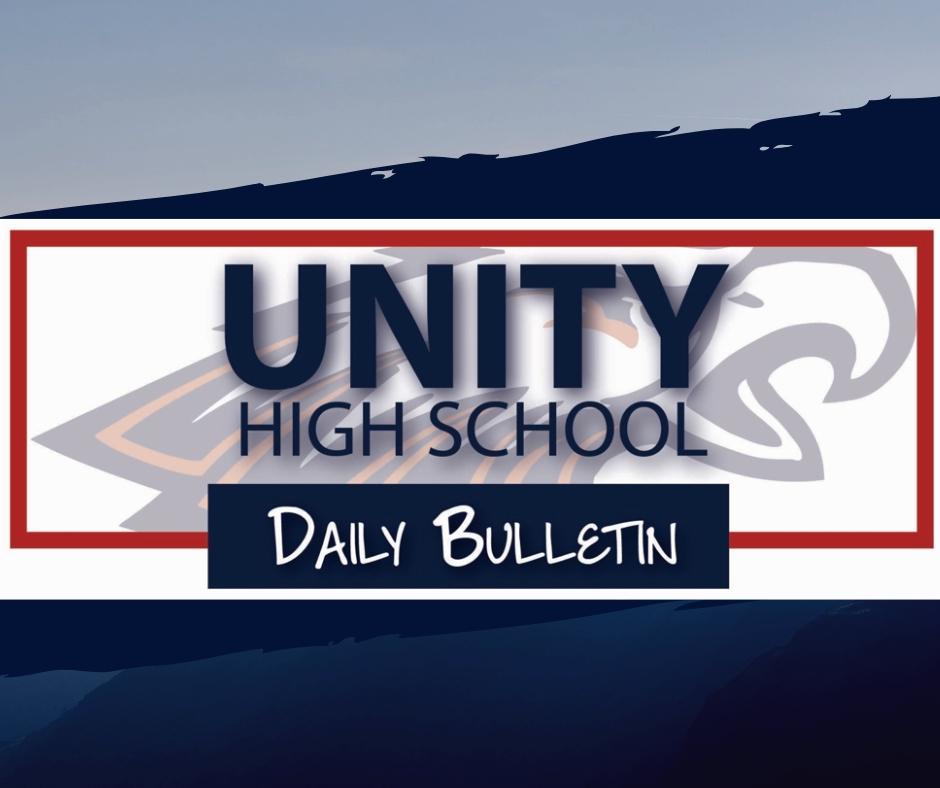 High School Announcements 1.13.2020
Unity High School
Monday, January 13, 2020
January 13, 2020
Announcements:
Congratulations to Jayda Heilig for her State Qualifying performance at the Osceola Powerlifting Tournament! About 300 lifters competed. Jayda placed 3rd in her weight division with 560 total pounds in lifts. Great work, Jayda! Thanks to the Unity Eagles that came to support her!
Do you want to work your way to becoming a better athlete? If so, the Eagle Lifting Club is for you! The Eagle Lifting Club will be run on Mondays, Wednesdays and Thursdays from 3:45-5:00pm. Participants are responsible for their own transportation after the program ends each day. If you would like to join, grab a sign up sheet in either the MS or HS office, get it signed and hand it in to Mr. Nelson or Mr. Otradovec.
Any girls interested in attending Badger State, please come to the office for more information.
Yearbooks are selling fast. Don't wait, order yours today! See Mrs. Ahlgren for details.
Senior reminder - you are to check into your resource hour before you leave for lunch privilege, and show your privilege card in the office. You are also to return on time and be present in your 4th hour class when the bell rings. It's a privilege to leave the building, please respect the guidelines.
Trollhaugen pass information is in the office.
Upcoming Meetings:
Quiz Bowl 2020 Launch, Quiz In Lunch, Noon, Room 110, Every Friday until season start
FFA officer meetings will be every 1st and 3rd Wednesday of the month during lunch in the ag room.
FFA chapter meetings for all regular members will be every 2nd and 4th Wednesday of the month during lunch in the ag room.
Upcoming Events:
Tuesday: Boys Basketball vs. Cameron (H)
Thursday: Wrestling vs. Cornell/Gilman (H)
Friday: Boys/Girls Basketball vs. Grantsburg (H)
Food Service:
Grab and Go meals will be available at the snack window. Each day we will have 2 grab and go meal options. Every day, we will have the PB&J Snacker Pack (Uncrustable, String Cheese, Cheez It Crackers, Applesauce Cup) as well as a second rotating option (Chicken Caesar Wrap, Yogurt Parfait, Italian Sub, Bean and Cheese Nachos, etc). These grab and go meals all come with milk, fruit and veggies at the regular lunch price.
Lunch today: Hot Dogs/Baked Beans/Apple Slices
We have a new item at the Ala Carte window called "The Bistro Box"
The Bistro Box is similar to a lunchable. It contains flatbread, turkey, cheese and hummus. Be sure to grab milk, fruit and veggies to go with this yummy pack. This is part of the grab and go lunch program and is available for everyone as a lunch.
Make it a great day!