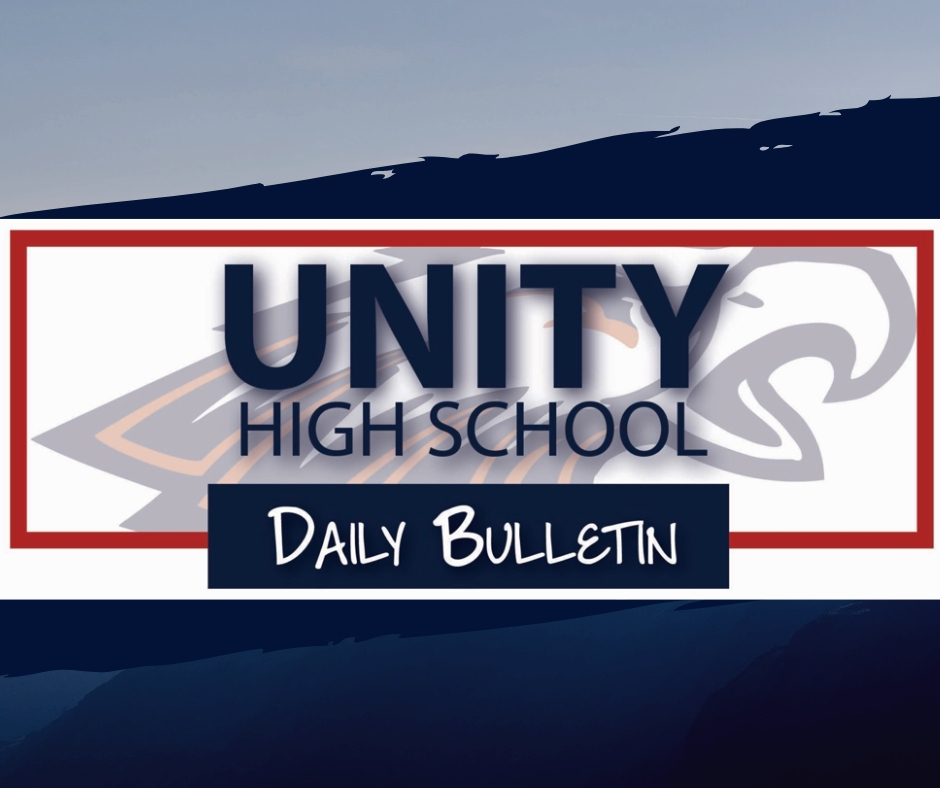 High School Announcements 1.16.2020
Unity High School
Thursday, January 16, 2020
January 16, 2020
Announcements:
Juniors - Don't forget to start selling cookie dough. Money and forms can be turned in to Mr. Johnson, Mrs. Ahlgren or Ms. Jagielo by January 31st. Get selling!
Junior Girls interested in Badger Girls State, please turn in your applications this week to the office.
Senior reminder - Unity Scholarships are due January 31st.
Yearbooks are selling fast. Don't wait, order yours today! See Mrs. Ahlgren for details.
Senior reminder - you are to check into your resource hour before you leave for lunch privilege, and show your privilege card in the office. You are also to return on time and be present in your 4th hour class when the bell rings. It's a privilege to leave the building, please respect the guidelines.
Trollhaugen pass information is in the office.
Upcoming Meetings:
If you are an NHS member, there will be a meeting in Mr. Stewart's room on Friday during lunch at 12:15 p.m.
Quiz Bowl Quiz In day is today @ noon instead of tomorrow!
FFA officer meetings will be every 1st and 3rd Wednesday of the month during lunch in the ag room.
FFA chapter meetings for all regular members will be every 2nd and 4th Wednesday of the month during lunch in the ag room.
Upcoming Events:
Thursday: Wrestling vs. Cornell/Gilman (H)
Friday: Boys/Girls Basketball vs. Grantsburg (H)
Food Service:
Lunch today: Pizza Calzones/Green Beans/Grapes
Breakfast Cart - Every day after 1st hour next to Mr. Collin's room.
Bistro Box - Every day at lunch in the cafeteria
Make it a great day!