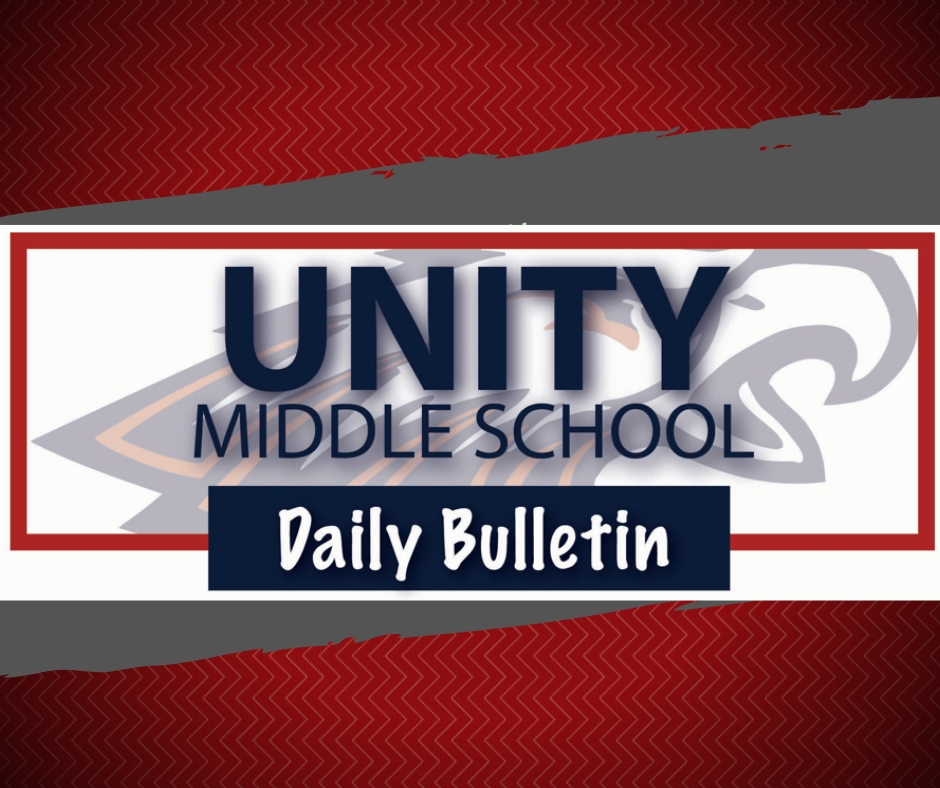 Middle School Announcements 1.30.2020
Unity Middle School
Thursday, January 30, 2020
Thursday, January 30, 2020
Announcements
Track Athletes: UW-River Falls Track Pass camp forms available in the office.
All 6th-8th graders will need their jump ropes for physical education class on Monday and Tuesday this week!
Do you want to work your way to becoming a better athlete? Are you in grade 7 through 12? If so, the Eagle Lifting Club is for you! The Eagle Lifting Club has started and runs on Mondays, Wednesdays and Thursdays from 3:45-5:00pm. Participants are responsible for their own transportation after the program ends each day. If you would like to join, grab a sign-up sheet in either the MS or HS office, get it signed and hand it in to Mr. Nelson or Mr. Otradovec.
Food Service
Lunch Today: Waffles & Maple Syrup, Sausage Links, Potato Smiles, and Tropical Fruit
Breakfast Tomorrow: Frudel (Fruit Strudel)
Lunch Tomorrow: Chicken Parmesan Sandwich (Choice of Cheese and Marinara Sauce as Topping), Corn, and Fruit Slushies
The Bistro Box is similar to a lunchable. It contains flatbread, turkey, cheese and hummus. Be sure to grab milk, fruit and veggies to go with this yummy pack. This is part of the grab and go lunch program and is available for everyone as a lunch.
Save Time in the Lunch Line: Take Fruit/Veggies Everyday! You must choose at least 1⁄2 cup of fruit, vegetable or a combination of the 2 in order to have a complete meal. This is a requirement of the National School Lunch Program. Be sure to take fruit and/or veggies as you go through the lunch line. If you don't, you will be sent back to the line to get fruit/veggies. Please be respectful of your lunch staff members and follow their directions.
Upcoming Events
January 30th: MS Wrestling @ Clear Lake (bus leaves at 3:45)
January 30th: UWEC MS Honor Band
February 3rd: MS Forensics Meet @ SCF (bus leaves at 3:15)
February 3rd: MS Wrestling @ Chetek-Weyerhaeuser (bus leaves at 2:30)
Make it a GREAT day!