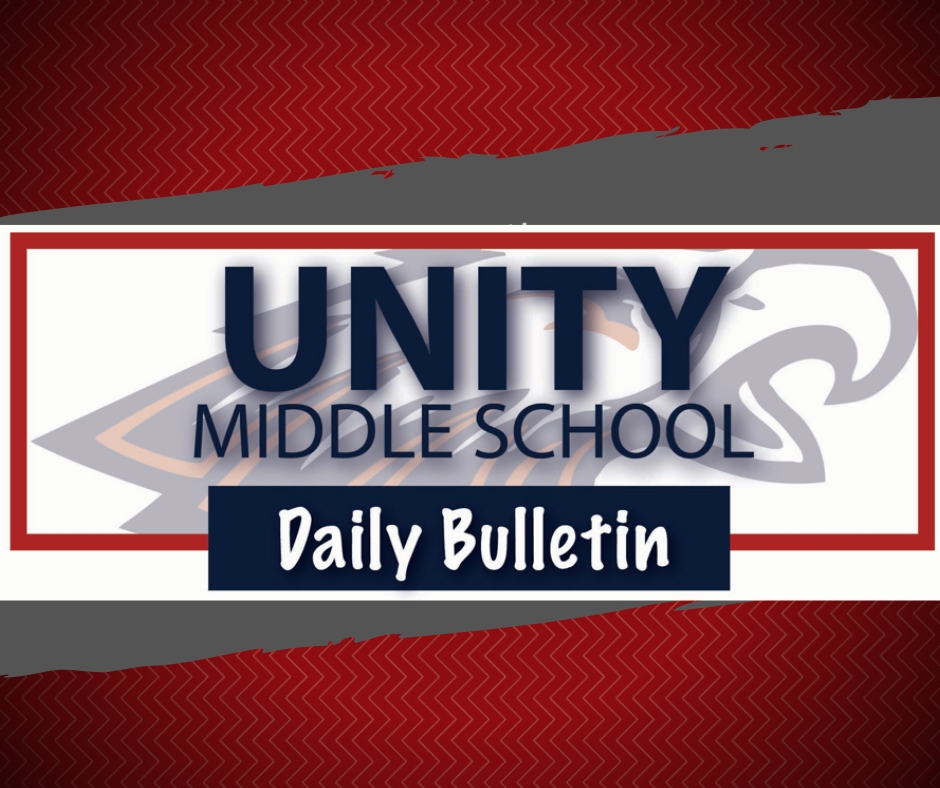 Middle School Announcements 2.20.2020
Unity Middle School
Thursday, February 20, 2020
Thursday, February 20, 2020
Announcements
If you would like to order a boys basketball conference champion t-shirt, pick up an order form in the office. Orders are due this Friday with payment.
Please claim lost and found items by March 4. All remaining items will be collected and donated on March 5.
Meetings
For students in grades 6-12 who are interested in joining the Trap team, there will be a parent meeting on Tuesday, February 25th at 6pm in the cafeteria.
Reminders
Track Athletes: UW-River Falls Track Pass camp forms available in the office.
There is information in the office for those interested in joining the St. Croix Falls AYSO Soccer program.
Snow hills are off limits!
This will help reduce conflicts and keep all of you safe.
Food Service
Lunch Today: Western Burger, Baked Beans, and Pears
Breakfast Tomorrow: Pancakes
Lunch Tomorrow: Chicken & Waffles, Sweet Potato Tots, and Sliced Peaches
Save Time in the Lunch Line: Take Fruit/Veggies Everyday! You must choose at least 1⁄2 cup of fruit, vegetable or a combination of the 2 in order to have a complete meal. This is a requirement of the National School Lunch Program. Be sure to take fruit and/or veggies as you go through the lunch line. If you don't, you will be sent back to the line to get fruit/veggies. Please be respectful of your lunch staff members and follow their directions.
Upcoming Events
February 20th: MS Wrestling @ Baldwin-Woodville (bus leaves at 2:45)
March 5th: Parent Teacher Conferences (4:00-8:30)
March 6th: End of Trimester
March 16th-20th: Spring Break – No School
Make it a GREAT day!