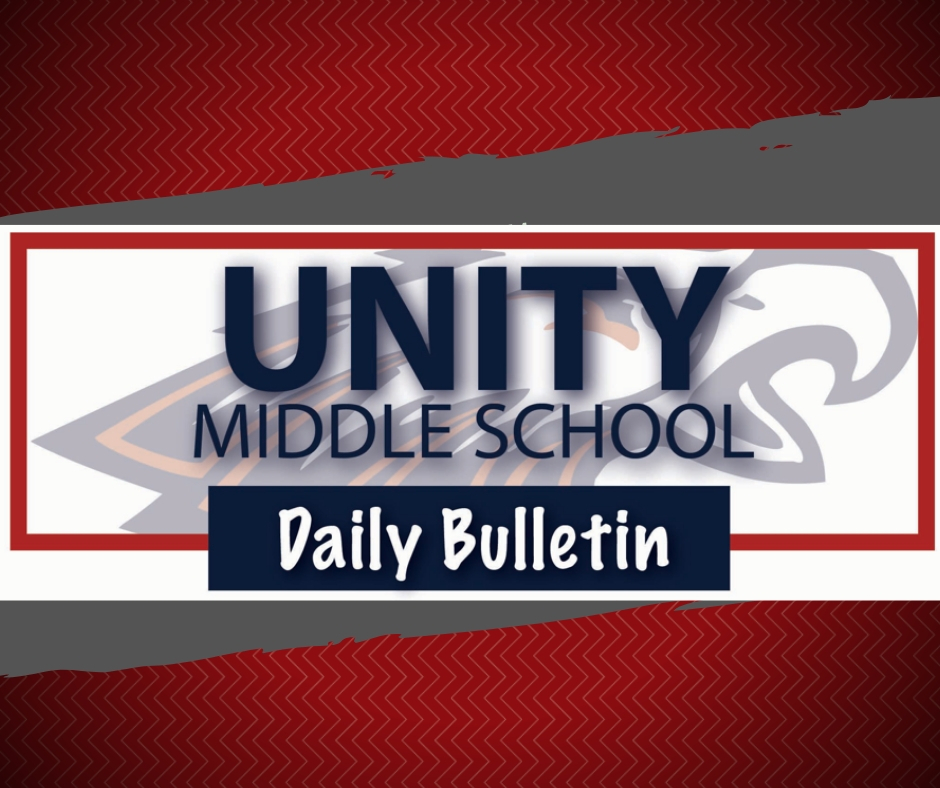 Middle School Announcements 2.26.2020
Unity Middle School
Wednesday, February 26, 2020
Wednesday, February 26, 2020
.
Announcements
Please claim lost and found items by March 4. All remaining items will be collected and donated on March 5.
Meetings
Reminders
Track Athletes: UW-River Falls Track Pass camp forms available in the office.
There is information in the office for those interested in joining the St. Croix Falls AYSO Soccer program.
Food Service
Lunch Today: Italian Dunkers w/ Marinara Dipping Sauce, Broccoli and Peaches
Breakfast Tomorrow: Mini Cinnamon Rolls
Lunch Tomorrow: Roasted Turkey Dinner, Mashed Potatoes and Gravy, Corn, Dinner Roll, and Bananas
Save Time in the Lunch Line: Take Fruit/Veggies Everyday! You must choose at least 1⁄2 cup of fruit, vegetable or a combination of the 2 in order to have a complete meal. This is a requirement of the National School Lunch Program. Be sure to take fruit and/or veggies as you go through the lunch line. If you don't, you will be sent back to the line to get fruit/veggies. Please be respectful of your lunch staff members and follow their directions.
Upcoming Events
February 27th: GBB @ Luck (Bus leaves at 3:40)
March 2nd: GBB @ Grantsburg (Bus leaves at 3:15)
March 5th: Parent Teacher Conferences (4:00-8:30)
March 5th: Wrestling at Hayward (Bus leaves at 3:00)
March 6th: End of Trimester
March 10th: Combined 5th-12th Grade Band Concert 7pm
March 12th: Wrestling at Rice Lake (Bus leaves at 3:30)
March 16th-20th: Spring Break – No School