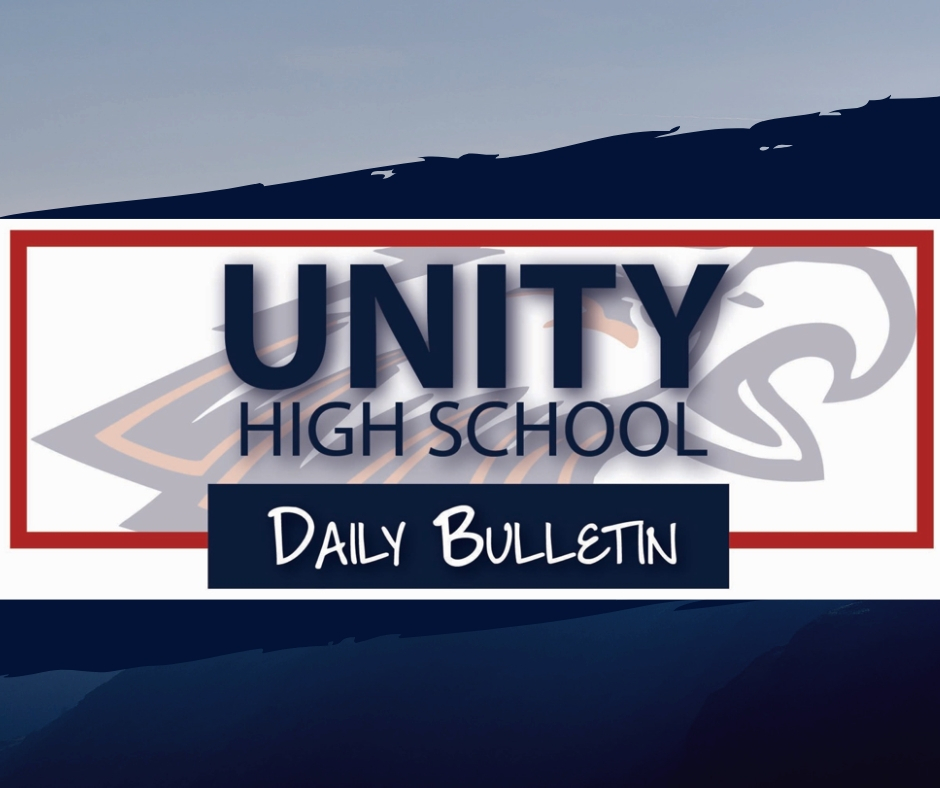 High School Announcements 3.2.2020
Unity High School
Monday, March 02, 2020
March 2, 2020
Announcements:
Congratulations to the Girls Basketball Team on their Regional Championship!
T-shirt orders are due by 11:00 a.m. Sectional Semi-Final tickets for sale in the office.
Congratulations to Liam Dueholm who placed 1st in the 3D Printing and Design Competition at the SkillsUSA Regionals last Friday.
Dinner and Movie Fundraiser - Cinderella Man - Tickets for sale in the office.
If you are missing any items or clothing, go check out the lost and found by the nurse's office before March 4th when items will be donated.
Soccer Registration information is in the office.
What are you grateful for? Open up your grateful app and type in 3 things every day you are grateful for. It could be as simple as:
A fresh cup of coffee
Snuggles with my cat
The workout I got in last night
A good lunch I am looking forward to
Senior reminder - you are to check into your resource hour before you leave for lunch privilege, and show your privilege card in the office. You are also to return on time and be present in your 4th hour class when the bell rings. It's a privilege to leave the building, please respect the guidelines.
Upcoming Meetings:
2020 Quiztorians Quiz Bowl Team will meet each Friday in Room 110 from 11:30 to 12:30 until competition season begins. Let's make Quiztory!
FFA officer meetings will be every 1st and 3rd Wednesday of the month during lunch in the ag room.
FFA chapter meetings for all regular members will be every 2nd and 4th Wednesday of the month during lunch in the ag room.
Upcoming Events:
Thursday - Girls Basketball Sectional @ Chetek vs. Colfax
Friday - Boys Basketball Regional (H) 7:00 p.m.
Food Service:
Lunch today: Brunch Lunch/Lumberjacks/Hashbrowns/Applesauce cups
Breakfast Cart - Every day after 1st hour next to Mr. Collin's room.
Make it a great day!