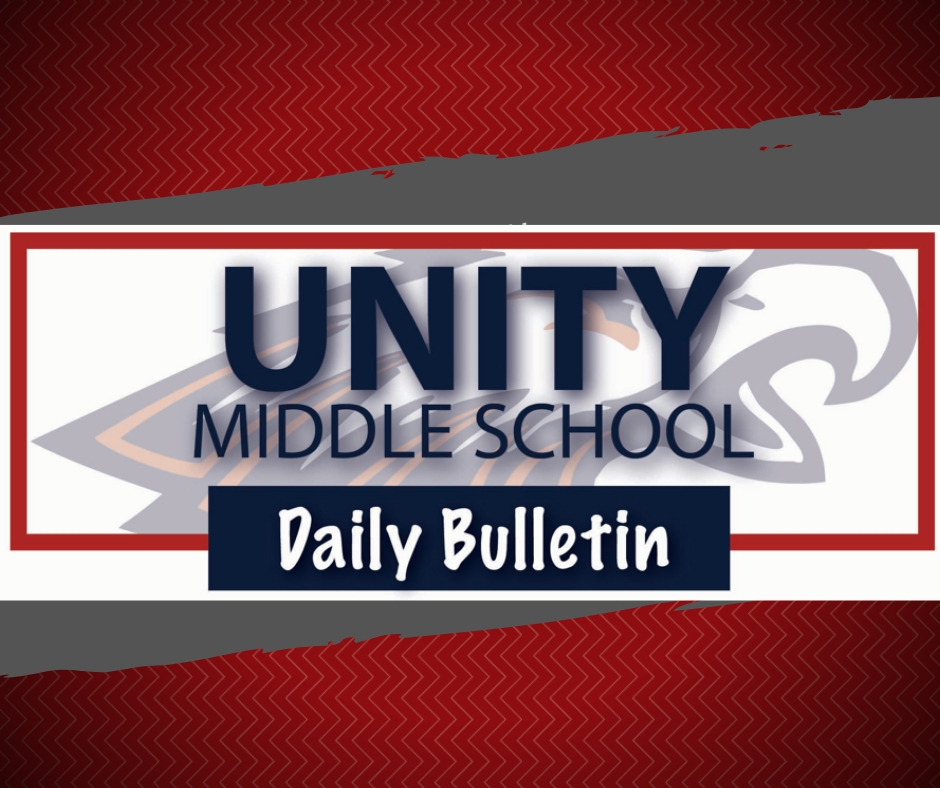 Middle School Announcements 3.13.2020
Unity Middle School
Friday, March 13, 2020
Friday, March 13, 2020
Announcements
All band instruments must go home during Spring Break. Please keep lockers open so custodial staff may clean them. Mr. Esterberg will provide cleaning instructions for mouthpieces and instruments. Don't forget instruments when we return to school.
Play Audition Results are posted outside the Band Room. Please stop in to get an information sheet with Mr. Esterberg before the end of the day.
Now is a good time, before spring break, to take home your belongings from your phy. ed. locker. These lockers will be cleaned over spring.
Also, students are expected to have a working lock on their PE locker. Personal belongings need to be locked at all times when not present in the locker room. If you do not have a lock, please purchase one over the break. If you cannot afford a lock, please talk to your phy ed teacher.
Reminders
5th grade physical education students begin swimming March 23.
It is important to write your name and homeroom legibly on your lap tracking sheets!
Per District Policy:
Backpacks, duffle bags, purses, etc. are NOT allowed in classrooms. These items need to be stored in your locker until the end of the day.
Cell phones are also not allowed in classrooms. In the handbook, it states, "devices must be turned off and stored in a secure locker during regularly scheduled class times unless special permission has been granted by a teacher and/or building principal."
Track Athletes: UW-River Falls Track Pass camp forms available in the office.
There is information in the office for those interested in joining the St. Croix Falls AYSO Soccer program.
Food Service
Lunch Today: Eagle Club Sandwich or PB&J, Cottage Cheese, Chips, Fresh Veggies, and Fruit Slushies
Breakfast When We Return: Pancakes
Lunch When We Return: Chicken Dippers w/ Sauce, Dinner Roll, Sweet Potato Fries, and Apple Slices
Save Time in the Lunch Line: Take Fruit/Veggies Everyday! You must choose at least 1⁄2 cup of fruit, vegetable or a combination of the 2 in order to have a complete meal. This is a requirement of the National School Lunch Program. Be sure to take fruit and/or veggies as you go through the lunch line. If you don't, you will be sent back to the line to get fruit/veggies. Please be respectful of your lunch staff members and follow their directions.
Upcoming Events
March 16th-20th: Spring Break – No School
April 27th: 7/8th Grade Choir and Band Spring Concert 7pm